For quilt pattern notices & more quilty fun through your Facebook, click the 'Like' button below...Thanks!
~August, 2017 Update~

Victoriana Album Stitch Along: Part #3- Double Roses Block
The emails about Part #3 will be sent out to those currently registered.
The Stitch Along Picture Page has more pictures - send yours!
Did You Know...There is a Victoriana Album Colouring Page available, too!
All available on the special Victoriana Album Stitch Along page.

If you were expecting to receive these emails and are still waiting or you wish to register (there is still time!), email me.

*Winners: The 10 winners of the Victoriana Album Printable Note Cards are: Barbara Sinnott; Birgit Norton; Jennifer Barnard; Bea Timmons; Audrey Coleman; Sylvia Mayfield; Rebecca Stafford; Stacie Fletcher; Mickie Winter; Arlene Hester

Free Block of the Month: Pattern Play Series - August Block


Members have access to the whole Pattern Play quilt instructions here.

Stuffies Berta the Bunny ~> The third Pet Stuffies has joined this series.

See the whole Stuffies Family of Baby Quilt Patterns here.

2017 Member Pattern Series: Playing with Pincushions
The next pincushion will be available in September.
Pincushion Patterns Currently Available:
Small Hexie, Log Cabin, Spool, Round Flower, Mini Hoop & Dresden, Apple Core Cube.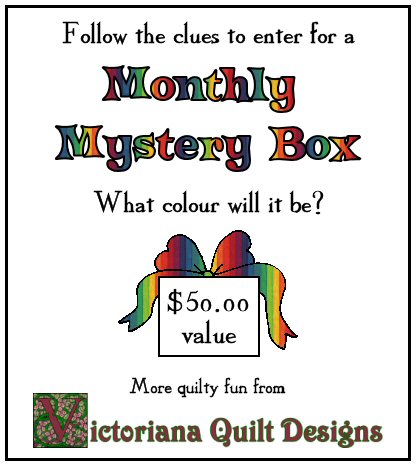 You'll find August's first clue here!
~Winner of July's Blue-Green Box~
Cristi Hayes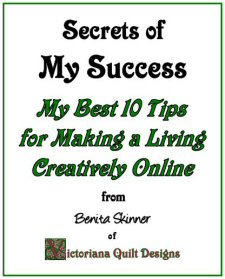 Learn How here!

~Starts in September - Register Now!~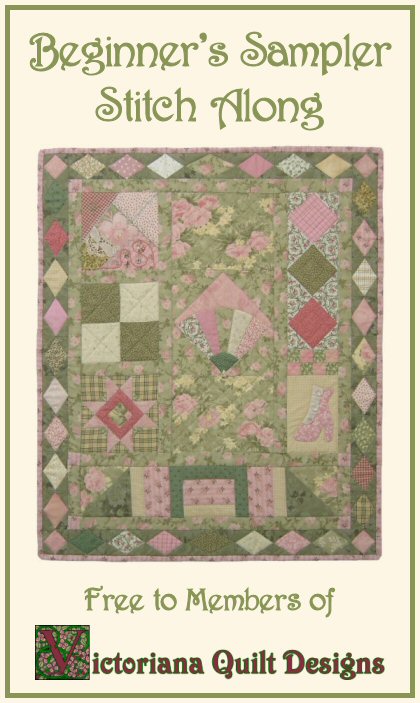 This 6-month Beginner's Sampler quilt Stitch Along
for Victoriana Quilt Designs Members, is scheduled to begin in September.
Each month we will work on various basic quilt techniques,
progressing with each lesson, until you have this beautiful wallhanging.
You will need to register (email me), to get the Stitch Along emails
and access to the special Beginner's Sampler Stitch Along page.
The registration confirmation email includes the fabric information
and a colouring page.
~
*Winners: The 10 winners of the Beginner Sampler Printable Note Cards are: Rita Grace; Alice Bowman; Olivia Mackenzie; Verna Frederick; Jenny Stover; Helene Pelletier; Sarah Hudson; Wilma Robbins; Blanche White; Mona Winslow.

~Coming Back this Month~

The August design will be available exclusively
to newsletter subscribers, later this month.


Come join our quilting community...Sharing with Quilters!
Quilter Pen Pals & Quilt Charm Swaps pages.
Meet Quilters' from your hometown or around the world!

Quilt Guild Reference List:
This Quilt Guild Reference List is where you will find a list of quilt guilds and groups from all over the world.
If your group is not listed, fill in the details - I would love to add them.

Members Notebook:
This section has news, notes and important reminders for members.
Be sure to read the new entries and reminders every month.

Used Quilt Books for Sale:
See the long list of quilt books available.
Please feel free to list your used quilt books for sale or trade!

Quilting Lessons:
These pages contain links to free quilt lessons, information and how to's that are available online.
This list makes a good quilters online resource for the Beginner Quilter, or anyone needing some refresher information or tutorial on a new quilt technique!

Quilt Tip of the Month:
The newest tip plus a 16 year collection!

Sneak Preview:
Preview of what's coming up soon...




~The August Crazy Quilt Monthly Memories is now online~
Are you looking for a specific fabric or book?
'Wanted' ads are accepted, too!


Content & Graphics © 2001~ Victoriana Quilt Designs
All rights reserved. Unauthorized use is strictly prohibited.
Welcome | Victoriana Quilters | Block of the Month | Pattern Page | Library | Membership
Schoolhouse | Gallery | Sharing | Feedback & Links | Card Shoppe