~QuiltAlbum Blog Hop~
I received an invitation from QuiltAlbum to be part of their first blog hop.
And the fun part, besides the questions we were asked to answer, is exploring this new software that is now available to quilters.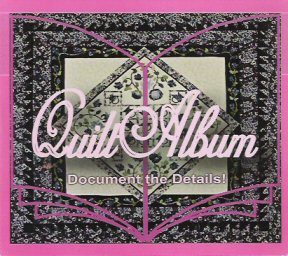 The QuiltAlbum software makes it easy to save the pictures of your quilts with all the details you want to remember.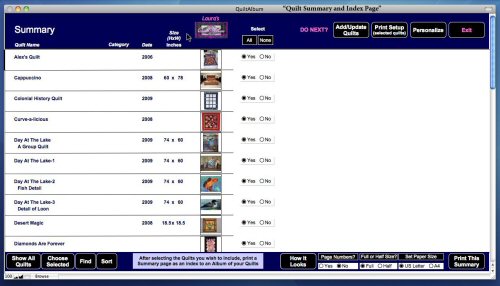 Then you can use this information to print out note cards, journal pages, business cards, and labels with your quilts on them!
And you know how much I like printables :)
You can see a short video that gives a good overview of the software plus sign up for their newsletter on the QuiltAlbum page here....and enter to win your own copy below!
~The Questions & Answers ~
1. What one item do you really want to add to your studio and why?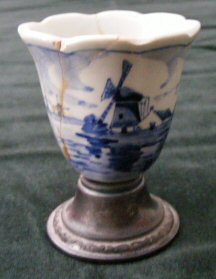 I received this very cracked Delft Blue egg cup, that my parents repaired and saved.
I love it, with the pretty blue and white on top of the heavy metal base, and believe it or not, it brings back such wonderful memories from my childhood.
I have grand plans to transform it into a pincushion, to use when I hand sew in my big comfy chair.
[By posting it here, I've now committed myself...and I'll post a picture when I get it done!]
2. What color would you paint your living room if you had to do it right now?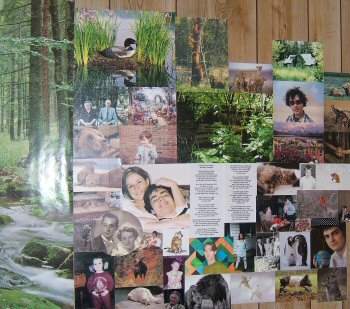 I've just begun transforming a section of the 'panelling' that makes up the walls of the main room/studio of our new off-grid home.
It's all inspiration, with pictures of loved ones and things, that I've Mod Podged directly onto the panelling.
I printed the pictures onto thin cardstock first, to preserve the original picture, and included a fabric swatch and favourite ribbons to fill some spaces.
3. Share a little know fact about yourself.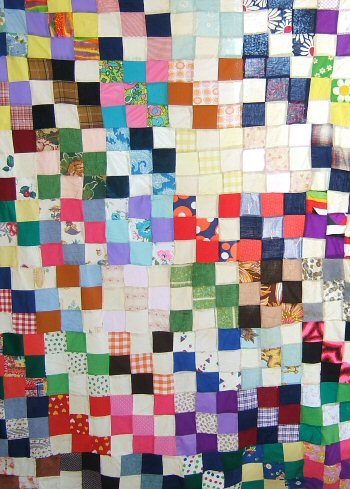 This is the very first quilt top I began at 13.
I loved Little House on the Prairie and the quilts on their beds plus I was learning to sew on the sewing machine.
Like many quilters, I was given my first needle and spool of thread at 6, taught how to hand sew and never looked back.
I had saved fabric scraps from my mom (who loved to sew clothing) to make into doll clothes.
Without a pattern or instructions I made the 9-patch blocks from these scraps of fabric.
You can see that they didn't line up well at all, as I had not considered the variation that could occur...and I even used fake fur from a puppet my mom made for my brother.
That's the best part of this keepsake. There are fabrics from clothing and aprons my mom and even my grandma wore.
4. What is the last piece of fabric you bought?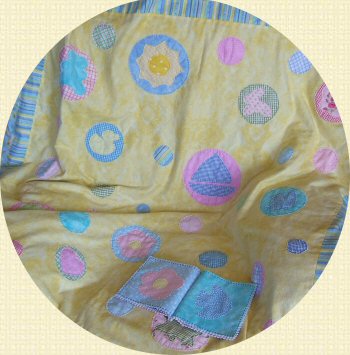 I bought a bunch of flannels to make my 'Cuddly Comfort with Matching Book', which will be available as a new quilt pattern in May & June (free to members).
5. Your favorite candy to find in your Easter Basket?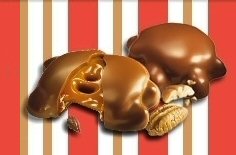 Hmmm....I Love Turtles!
~The Prizes~
I got to give away a copy of the QuiltAlbum software.
And the winners are:
[8 copies in all]
March 29
Rachel Griffith from p.s. i quilt [winner – Sandi]
Benita Skinner - that's me :) from Victoriana Quilt Designs [winner – Janet B]
March 30
Linda lum deBono from dzyning things [winner – Becky]
Vanessa Christenson from V and Co. [winner – Evelene S]
March 31
Geta Grama from Romanian Quilt Studio [winner – Connie]
Michele Foster from Quilting Gallery [winner – Kristi V]
April 1
John Adams from Quilt Dad [winner – Andrea]
Pat Sloan (our Hop-Host!) [winner – Lee Ann L]
I hope you enjoyed the hop!