~Garden Party Blog Hop~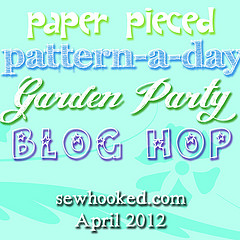 We're Celebrating Jennifer Ofenstein's Birthday this month.
She is hosting a great Paper Pieced Pattern-a-day Garden Party Blog Hop on her SewHooked site....and today's my day!
A big Thank You, Jennifer for making it so much fun to celebrate with you!
And Thank You for visiting me here. I hope you enjoy my Garden Party block!
~~~
Hi! My name is Benita Skinner and I design quilt patterns that are available exclusively online through my company Victoriana Quilt Designs.
Psst...There's also a chance below, for you to enter for my prize!
~Croquet Anyone?~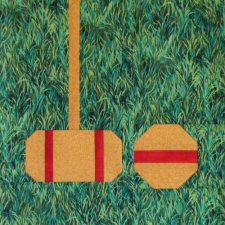 Request the Croquet Anyone? Directions and Templates here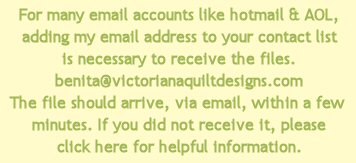 ~~~
~Prize~
You have a chance to win one of my quilt patterns, including my newest Sweetie Pie!
Which one will you choose?
~The winner can be from any country~
~Winner~
Ronelle Serfontein: "I would love to win th Crazy Quilt Wizard patterns."
I hope you are enjoying the blog hop!
Thanks for visiting...and if this is your first time here, be sure to check out the other quilty items I offer, like the complimentary patterns, printable quilty bookmarks and calculator charts that are available to you as a Thank You for Visiting!

Benita Skinner
Victoriana Quilt Designs

Sign Up for the Update Newsletter for the latest news!
Your email will be used for my newsletter only.
~~~