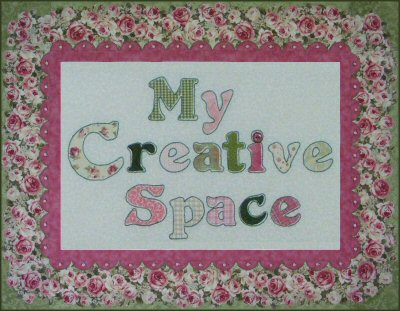 *NEW*
Hand Stitching
I've begun to stitch the Apple Core patches for my 15th Anniversary Keepsake quilt.
I like how the pairs look like dresses.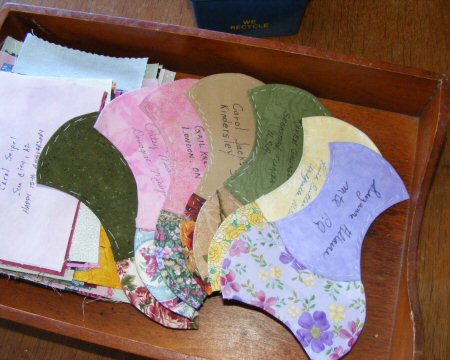 I'm still collecting patches if you're interested in being part of my quilt...Full details here.
I've also changed the way I'm keeping my hand stitching spools & tools, to keep them safe from my cats.
I now have them in a pretty little ceramic box with a lid, plus my project threads & needle book in a small patchwork box.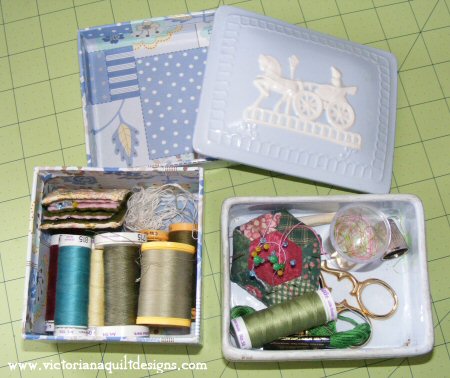 You can see the hexagon pin cushion how to here and the needle book information here.
~~~
Scissors & Strings
When taking my latest pictures of my sewing area for this post, I realized it has been over a year since I had anything interesting to share.
I was so liking my new hanging scissors area, I had to share that.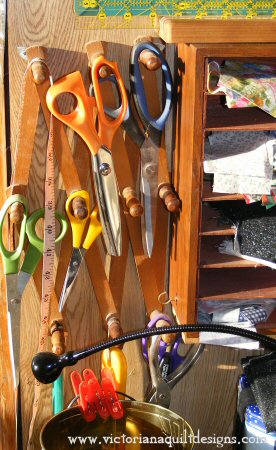 I used an accordion mug holder I had stored in a box.
I hung it on the wall beside my scrap collector shelf thing, with the ruler holder on top.
You can read more about it below.
For the rotary cutters that didn't have a large enough hole to hang, I used a loop of a pretty ribbon through the hole, and now they hang along with different scissors - large & small, pinking shears, measuring tape and a even a hole punch.
All within easy reach!
I also found (due to unpacking more boxes lately) this large, vintage sewing box that is now great storage for my bags of strings.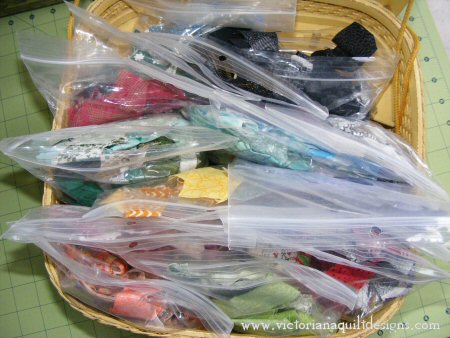 I've been filling them up when I can, by cutting skinny strips from my stash fabric, to use in making my Welcome Quilts.
~~~
My New Work Station
I'm excited about my new work station, which is better than the table I've had to work on, while I've lived in this little house.
I have a 2 foot wide board I had been saving to make into an extra large ironing surface, but hadn't gotten to it yet.
Then a few weeks ago, I found a Brabantia ironing board at the local thrift store for $3.00! It's an extra wide (18") model, and has adjustable height. The highest setting is at counter height, so I don't have to bend - and it also goes lower, so I can sit and use it if I wish.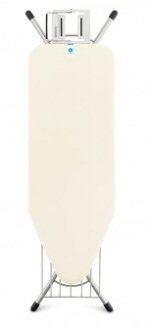 This is my model, minus the linen rack.
It's so wonderfully strong, that it holds the board I have been saving, to make it into a portable counter, where I can now do my cutting and other work on.
Plus an important part of this is that I can collapse it, when not in use, as I don't have the floor space to keep it up permanantly.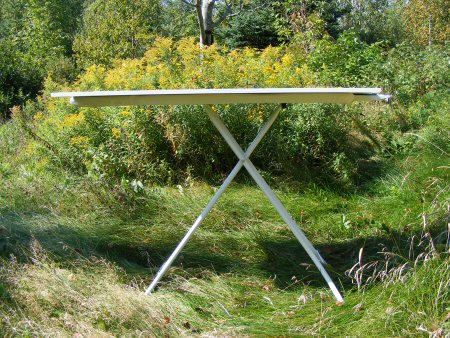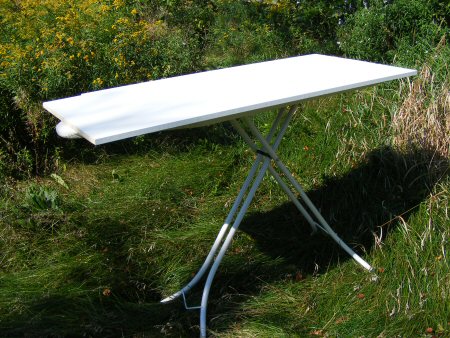 I took these pictures outside because there was no way to take a picture of the whole thing while inside - I couldn't get back far enough. :)
~~~
Tips to Share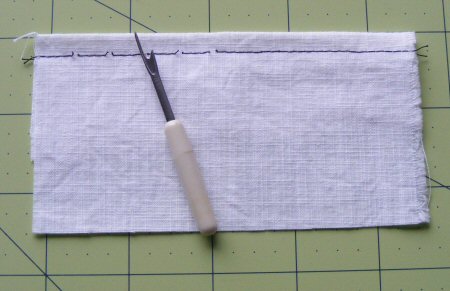 The Seam Ripper & How to Use It
I learnt how to sew, by making clothing - beginning with doll clothes, and eventually making my own.
The way I was taught to use the seam ripper, was exactly the same - from my home ec teacher and even in the tailor shop, where I worked summer & weekends for a few years -
Cut the thread with the ripper, pull a few stitches and start pulling the thread out until it breaks...take the backside thread and pull it until it breaks, and so on. This crinkles the fabric, stressing it, and can do some damage to your fingers as you pull.
Perhaps this is okay for clothing, but with small patches for quilts, there's a better way, that doesn't pull at the fabric at all.
I stitched this sample to show you how.
I wouldn't normally stitch black thread on white, but did, so you could easily see this.
With the ripper, cut the threads every 3 to 4 stitches, all the way along the seam needing to be removed.
When complete, pull the thread on the back, which will easily pull out as a whole.
There will be little threads that need cleaning up, but this goes quickly - picking them up with your fingers, or you could use a lint brush/roller - if you have one.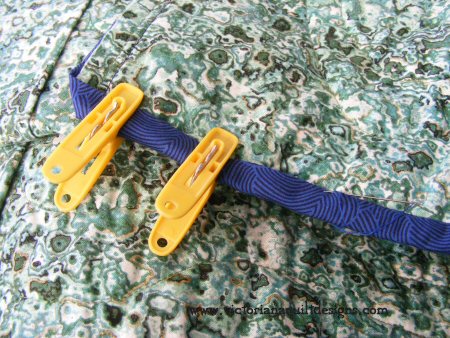 Stitching my bindings is another way I use my plastic clothes pins for my quilting.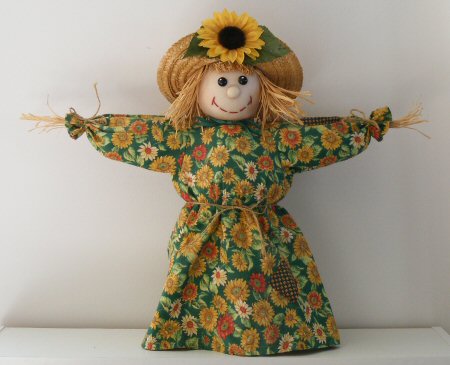 Meet Scarecrow Jane
I finally got a picture of her, as she's been packed away for over a decade!
She's made from a pop bottle, some shoulder pads, with stuffed pantyhose face & arms.
No pattern - just me playing one day creating something new.
I then coloured her as a picture, which became a printable note card...and then a quilt pattern. You can see both of those here.

~~~
Hexie Fun!
I'm having so much fun sewing hexies...that I'm already dreaming about my next hexagon quilt!
The box I put together for sewing my hexies needed a hexagon pincushion :)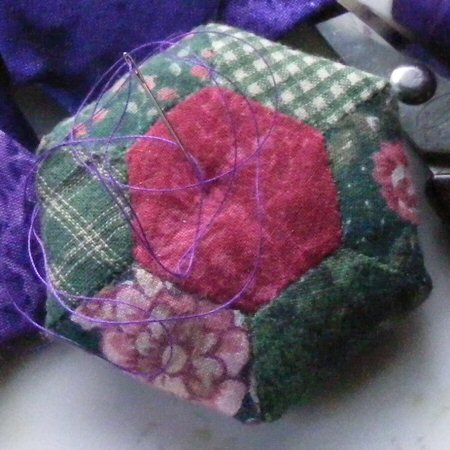 I've added the how to for you here.
Come join me while I explore this English Paper Piecing method!
~~~
Photo Tutorials
It's a new year and I've decided to finally learn how to use our camera.
My husband has been teaching me and has pointed out some great tips, allowing me to use a tripod, add the two second delay and take okay pictures.
What that means for you is that I now will be able to photograph my process and share picture tutorials with you....as I won't need to work taking these pictures around Brad's busy day.
As an example, here's one I took of the tools and notions I use when I'm appliquing.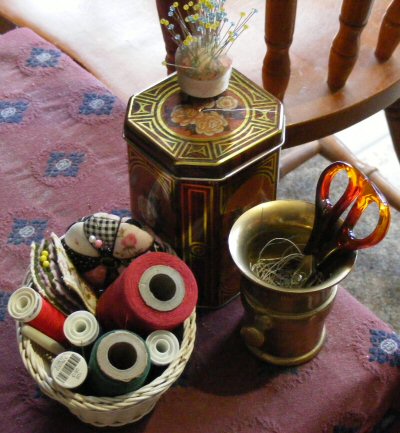 You may have seen some of these before.
That's my basting thread tin, and main pincushion.
It has a magnet on the bottom, which holds nicely to the tin...and my sewing machine base.
I received it as a gift when teaching about 15 years ago. It's made from a bottle cap and has a sweet pretty fabric.
The basket is holding my needle book - The one I made from a lovely ribbon. You can read the how to here.
And that pretty pincushion is from my Victoriana Dresden series here.
Between the threads you can also see the tiny seam ripper that I use to pull out my basting threads, when my patches are sewn down.
The brass cup holds scrap threads and my scissors.
I've just posted my first picture tutorial - Santa's Rising Sun Quilt.
I hope you enjoy our learning year and shopping from our stash!
~~~
Organizing My Scraps
I've had quite a creative spurt going on - Which means I need to collect the fabric for the new quilt designs that are planned as my patterns for 2013.

It's necessary to keep my quilt fabric buckets in our garage (Our house is 460 sq. ft. - so no room there).
This past weekend my husband helped me raise them onto shelves, so I no longer need to be moving stacks of them to get to that one on the bottom.
I also have sorted them into colour groups, which makes finding what I'm looking for much easier.

I've got a few scrap quilt designs planned, so I also want to sort my scraps into useful groupings.

I used to save all the smallest scraps in a basket, and then move them to storage tins.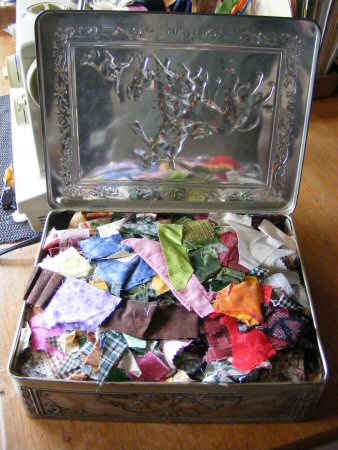 After moving here, I added this wooden box (on the left) that has been helping me process my scraps into colours as I make them.
It's on the wall above my sewing desk.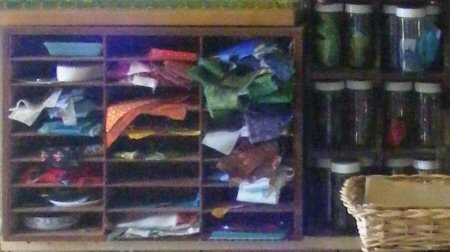 The old spice jars (on the right) now hold a sampling of the tiniest bits (under 1½" square), for use in appliqué & paper piecing - and I'm amazed how handy these have been!

Now knowing what quilts I want to use some of my scraps for, here's how I'm grouping them (not done yet...but making progress a bit at a time).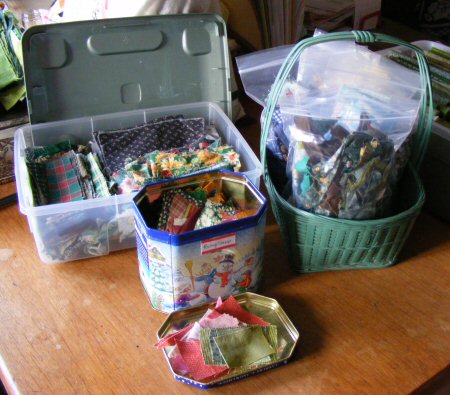 In the tin (with the snowman) I've got all the small pieces that I can get a 1½" square from.
I have a long-term quilt project - to make them into my 'Postage Stamp with a Twist' quilt.

The green basket has bags of all the strings I have (under 1½" wide and at least 3" long) plus the small 'triangles' to use for my Loving Our Earth Tiny Scrap Patch Project blocks - I've started to use the triangles for the tips of the blocks!

I have my tone on tone strips (over 1½" wide and at least 6" long) set aside (piled at the back of the picture), and the remaining pieces are kept in plastic boxes (like the one on the left).

I am enjoying making progress on something that will make such a big difference in my life going forward!

~~~
Using Wooden Boxes for Organizing
I love old wooden things, because of how natural they are and they're usually are so well made they continue to be useful.
This was my Mom's sewing box, which I'm so pleased to have inherited.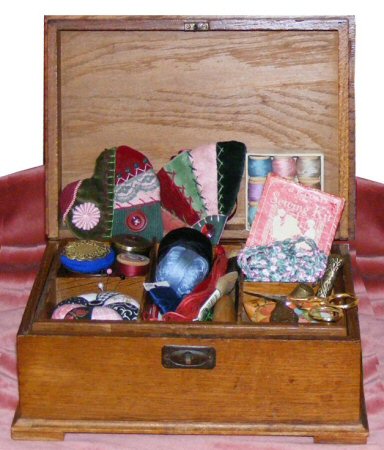 Those are my little sewing treasures I keep in it.
I have been keeping my spools of thread in several wooden utensil trays.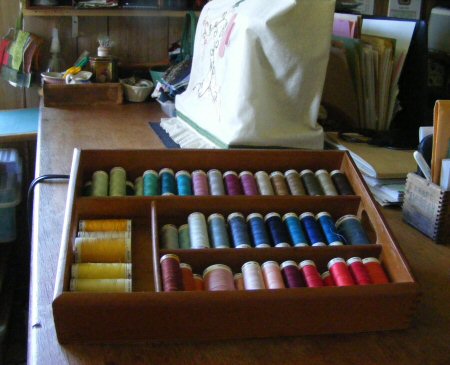 There are several missing drawers in my large wooden desk and these trays fit nicely, tucked into the open space.
Here you can see the full view of my double-sided wooden desk.
On the left is my sewing area, and on the right is my computer/office desk.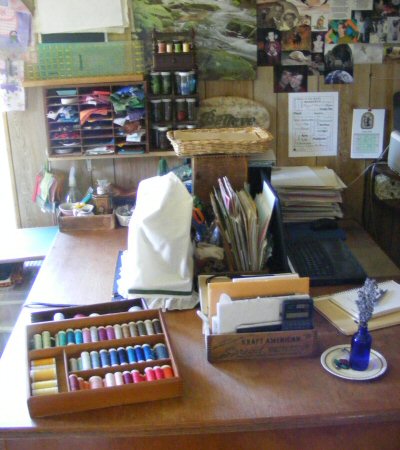 You can see the many different wooden boxes, trays and cubbyhole shelves that I use to keep my desks organized :)
There's always a use for a good wooden box!
~~~
Making it Pretty
If you're like me, you have tools in your sewing items that were received from companies... with their logo printed on it.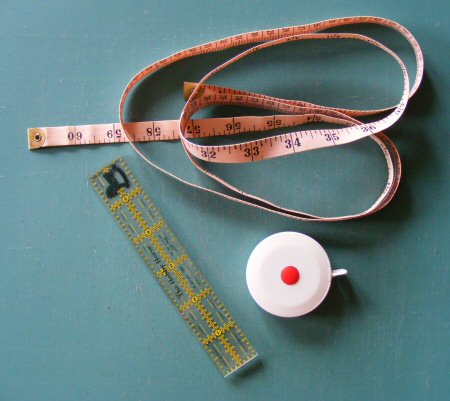 I decided to make a pretty cover for my retractable tape measure.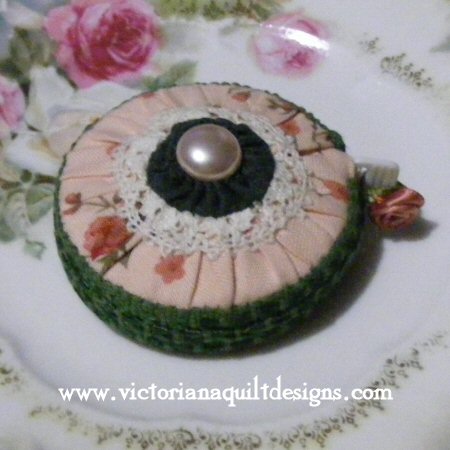 You will find my Retractable Tape Measure Cover Tutorial here, so you can get an idea how to cover the one you have!
~~~
My Old Irons
These are my antique irons....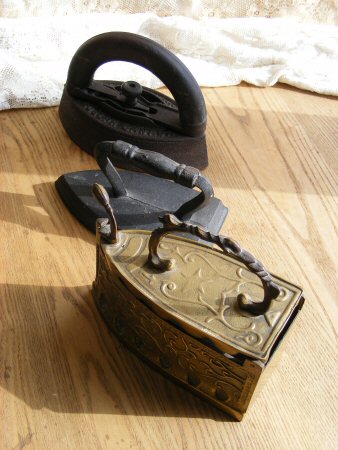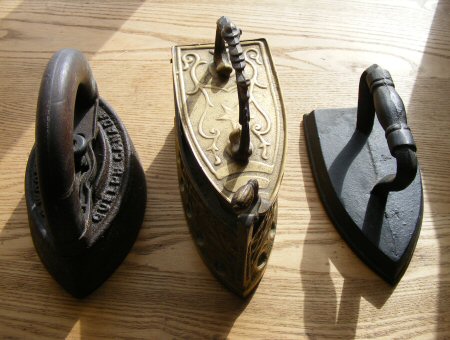 The brass one I received from my grandmother many years ago and I treasure it.
My husband purchased the other two for me, when we were planning our move off-grid. He thought I could use those to iron my fabrics when our power was limited.
The clunky one on the left, with the removable handle sits as a door stop, and the one on the right has been useful when I need something heavy to hold down something.
I prefer to wait until there is enough power and use my electric iron, instead of taking the chance at scorching my fabrics :)
~~~
Ribbon Needle Book
In my sewing box that I keep next to my hand sewing chair, I've always had bits of fabric scraps with different needles and special pins that I use for all of my sewing.
I always wanted to make myself a needle book to keep these in.
Recently I enjoyed putting one together which I made out of a lovely piece of ribbon I had in my collection.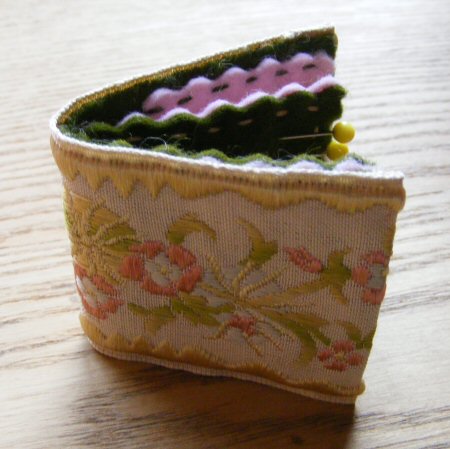 I cut a matching felt piece to sew on the backside of the ribbon (folding the ends of the ribbon in first), and blind-stitched it to the back of the ribbon, being careful not to stitch through to the front.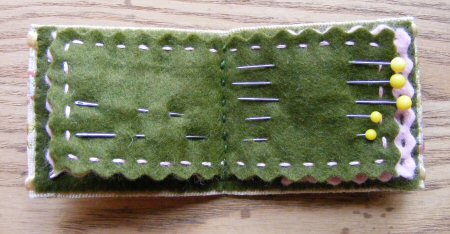 I then cut (with pinking shears) a few slightly smaller pieces of felt.
I stitched them together with embroidery floss, and stitched these pages to the center of the ribbon section.
I also stitched a small pocket on the back cover, to keep a needle threader handy.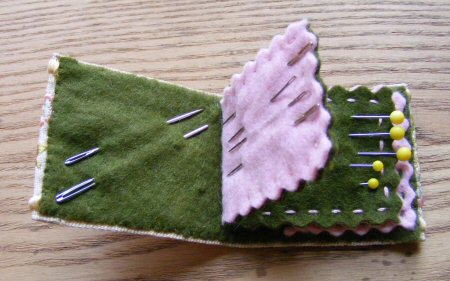 Now I can keep all of my different needles & special pins that I use for a variety of sewing & embroidery jobs.
~~~
Blocking & Pinning Tips
One advantage of having this space is it allows me to share some of my favourite tips with you.
I personally have never been able to sew a perfect block, with perfect seam allowances, which effects how the whole finished quilt top sews together, as each 1/16th of an inch can add up to a significant amount in the finished size.
What I came up with early in my quilting, was to draw a line at the 'finished size', with a mechanical pencil, on the back of each unit or block. I use the line as a guide to pin to the next block, plus to sew along. The final result may have the blocks slightly off, or 'charming' in the quilt top, but the final quilt top itself lays flatter and in the end the finished quilt is nicer.
The 'Blocking' how to page, that describes the technique step by step, is available by request (free) here.
I start with a fine grade piece of sandpaper and tape it to a cardboard with masking tape.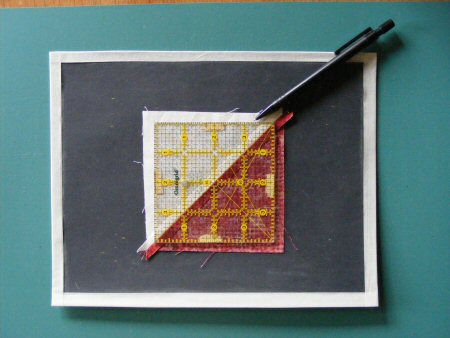 I lay the unit or block with the wrong side up onto the sandpaper (or rough section of my cutting mat if the block is larger), and center a ruler (the finished block size I need if I have one, otherwise I use a ruler the closest to the size) onto the back of the unit.
Draw a 'sewing' line, with the mechanical pencil, around the ruler.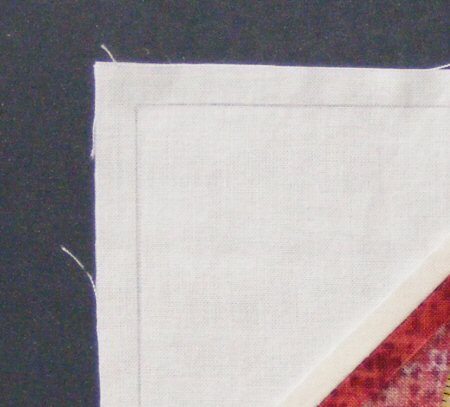 This gives you good corners and makes up for any uneven sewing. You can trim any extra seam allowance, if you wish to take the time.
Pin your blocks together using this pinning trick:
Place a pin in each corner of both the two blocks you are joining. Don't anchor them. Hold the pin perpendicular (90*) with your first two fingers (underneath) and your thumb on top. Now place an anchor pin (going in at an angle) beside it. Do the same for the other corner, and a few times in between, making sure you are matching up the two sewing lines. This pinning method keeps the blocks from shifting out of place.
When you combine both of these tips I promise your quilt tops will end up neater.
~~~
Thread Catcher Tip
To catch the thread bits that I clip or pick off my patches, as I sew by my sewing machine I kept a small piece of scrap cotton batting...But this had to be pinned to the rubber mat that sits under my machine.
When I came across a large covered button in my stash, this idea came to me!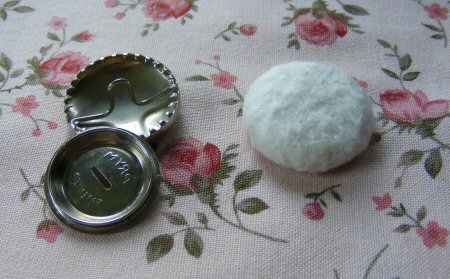 I removed the shank on the back, cut a circle of cotton batting, and put this thread catcher together.
Having a sticky felt circle the right size for the back, I added it to finish it off.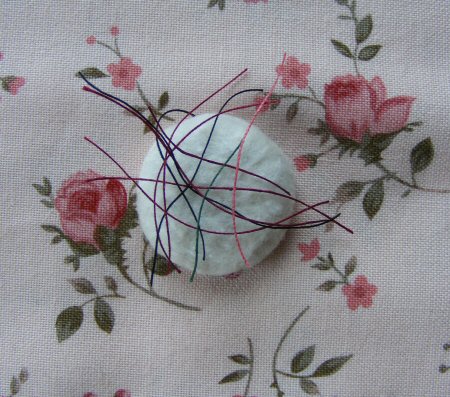 Now it sits in front of my machine, and magically holds the threads until I'm ready to move the batch accumulated, into a large 'tiny fabric bits' tin, which I save to stuff pet beds (older pillowcases) to donate to my local animal shelter!
~~~
A Sewing Machine Cover
I've always wanted a sewing machine cover to keep the dust from my machine, when I'm not using it.
I hadn't seen any that I really liked until recently, when I came across one that was made from a decorated old pillowcase, which did appeal to my 'reuse' gene.
After trying to find a nice one in my linen closet, and the town second-hand shop, I discovered there were no old pillowcases that would fit around my machine.
Not giving up the idea of the reused pillowcase, I remembered I had a homemade cream-coloured curtain I wasn't going to use, that I could sew into a shortened pillowcase shape.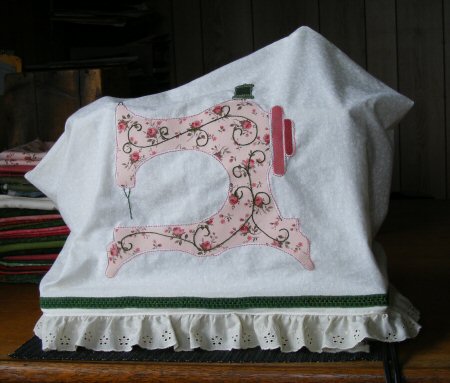 Here's how I made my sewing machine cover, in case you want to make your own.
I measured around my machine and the height, adding a few inches to the measurements for the seam allowances.
To decorate it, I used the 'Sewing Machine' block from my Rose Cottage quilt pattern, placing it in the centre of the strip of fabric I had cut out of the curtain.
[I designed mine with the one side seam at the back.]
I hemmed the bottom edge, and added some trim and eyelet lace from my stash.
I then stitched the sides together using a French seam to keep the inside clean of threads.
A simple seam was used to finish the top opening.
I really love how it turned out, and am enjoying what it has added to my sewing area!
If you make your own, send me a picture, as I'd love to see it!
~~~
Repurposing Tip
I really like reusing items like tins, as storage for my sewing items.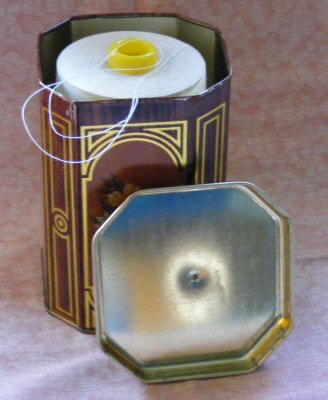 I found this tin perfectly holds my large spool of basting thread, so I turned the lid upside down, on a piece of wood, and hammered a nail gently through the center of the lid.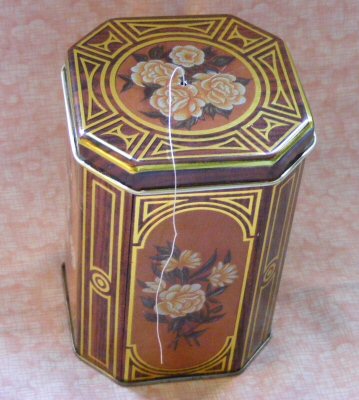 I pull the thread through the hole, as I need it, and now the spool stays dust free and looks much prettier!
~~~
A New Place to Share My Sewing Room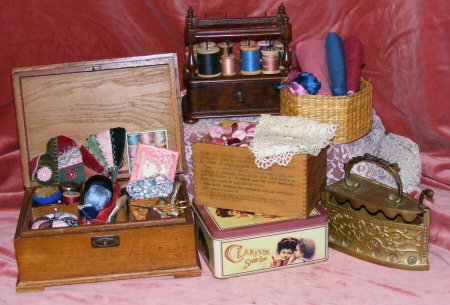 I like to decorate my sewing area with inspiring items, interesting jars, tins and baskets. These treasures of mine above are extra special to me. They include my Mothers' Sewing Box, the Brass Iron I received from my Grandmother, an antique spool holder, button box, and other sewing notions I like to use.
Some things you might already know about My Creative Space...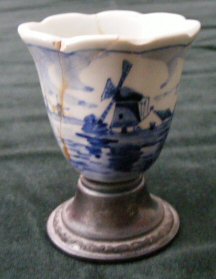 I received this very cracked Delft Blue egg cup, that my parents repaired and saved.
I love it, with the pretty blue and white on top of the heavy metal base, and believe it or not, it brings back such wonderful memories from my childhood.
I have grand plans to transform it into a pincushion, to use when I hand sew in my big comfy chair.
[By posting it here, I've now committed myself...and I'll post a picture when I get it done!]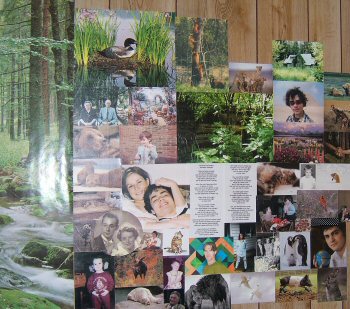 I've just begun transforming a section of the 'panelling' that makes up the walls of the main room/studio of our new off-grid home.
It's all inspiration, with pictures of loved ones and things, that I've modge-podged directly onto the panelling.
I printed the pictures onto thin cardstock first, to preserve the original picture, and included a fabric swatch and favourite ribbons to fill some spaces.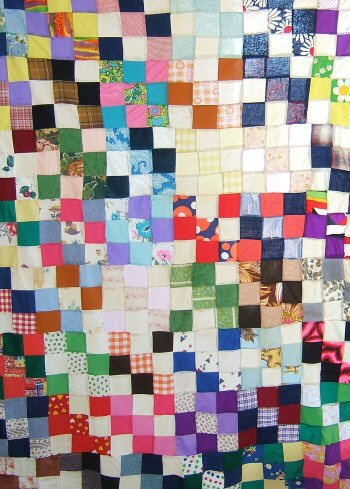 This is the very first quilt top I began at 13.
I loved Little House on the Prairie and the quilts on their beds, plus I was learning to sew on the sewing machine.
Like many quilters, I was given my first needle and spool of thread at 6, taught how to hand sew and never looked back.
I had saved fabric scraps from my mom (who loved to sew clothing) to make into doll clothes.
Without a pattern or instructions I made the 9-patch blocks from these scraps of fabric.
You can see that they didn't line up well at all, as I had not considered the variation that could occur...and I even used fake fur from a puppet my mom made for my brother.
That's the best part of this keepsake. There are fabrics from clothing and aprons my mom and even my grandma wore.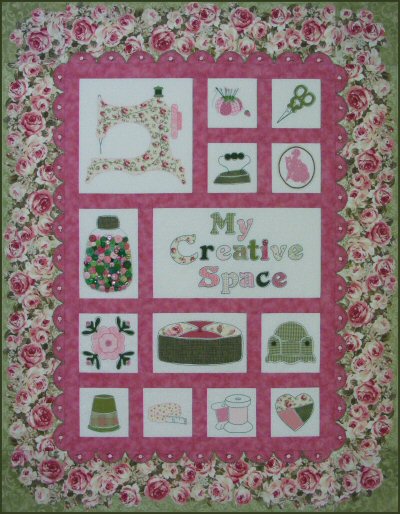 I designed this Rose Cottage ~ A Sewing Room Quilt for my studio.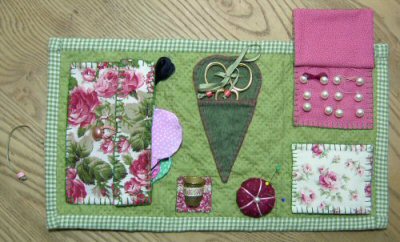 I enjoy using this Victoriana Sewing Kit I designed for my hand sewing and applique.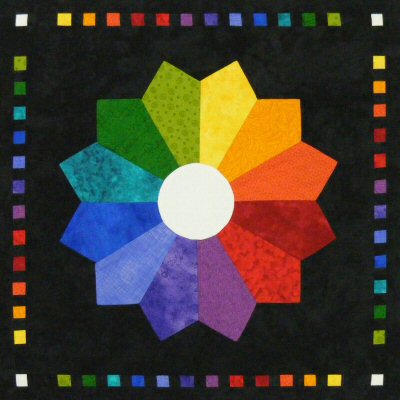 I also love looking at the Victoriana Dresdens Colour Wheel which inspires me with colour.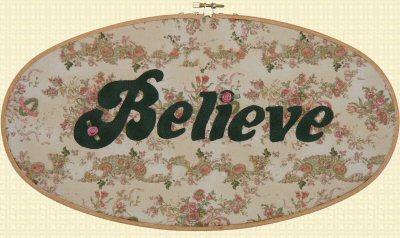 The Block of the Month in 2010 was Celebrating Words. I made this 'Believe' sign to display in a wooden hoop and it hangs in my sewing room.
The plan is to add some projects and ideas that I hope to add to my studio, that I will share with you here.