~~~

Finished Size: 8" x 8"

A~ Red, Green & Black Fabrics

6~1½" x 6" red strings

1~1" x 2" green & black patches

B~ Background

9" square

C~ Scrap Foundation Fabric

6" square
1. Cut the fabrics A + B + C [Rotary Cutting~ #F].
2. Starting at one end of the foundation fabric square, sew the Fabric A strings of fabrics, one after the other, onto the the foundation fabric, until you have covered the square. You will not be removing this foundation fabric when you are finished.
3. Make the apple templates [Cardboard Template]. Trace the apple shape, with a chalk pencil, onto the fabric A string unit (Diagram #1). Trace the apple leaf and stem, with a chalk pencil, onto the fabric A fabric patches (Diagram #2). With pinking shears (or scissors and clip your curves) cut the apple shapes ¼" beyond the chalk line.
Request the free Apple Templates here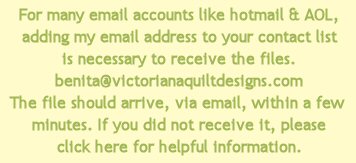 | | |
| --- | --- |
| Diagram #1 | Diagram #2 |
Turn the edges of the apple under and press.
Tip: Baste the seams [Stitches] down before you press and sew.
Centre the apple onto a background by folding in half, and finger pressing the center line. Do this in both directions on the background and apple unit. Pin or baste in place.
4. Top stitch [Machine Piecing] the apple to the background as close to the edge of the shape as possible. Use matching or contrasting thread.
Tip: Sew slowly and adjust seams with a pin, as you sew, if necessary.
5. Apply the apple leaf and stem [Applied Patch Appliqué] where illustrated.
6. Block [Blocking].