and


As a Thank You! for visiting you are welcome to print these

instructions.

It is available free to non-members, this month only.

For a tip about printing this page, click here.

To see the Past Blocks of the Month Picture Gallery, click here.
.
For quilt pattern notices & more quilty fun through your Facebook, click the 'Like' button below...Thanks!

There is a delay in the final two blocks (November & December), plus the finishing instructions.
They both will be available online, early in 2015.
You will get notified through the Newsletter here.
Each month we made a different flower block, using silk ribbon & embroidery stitching plus a little fusible appliqué.
Note: The Silk Ribbon Embroidery portions (SRE) could be replaced using Fusible Appliqué, if you would prefer.
Throughout the year, a new monthly stitch guide and template was available for you to collect.
Make a single block as a mini quilt, which would make very lovely Birthday gift!
Tip for Finishing a Single Block:
Bind it or leave the edge raw with blanket stitching around it.
Sew a button to the top two corners, on the back, and attach a cord to hang it.

Or save all 12 flower designs to piece together into a nice wallhanging, finishing it using the quilt-as-you-go method, which will be included with the December block.

Be sure to print this web page (& request any pattern files) each month as they become available, as these designs are available to non-members for one month only.
All Past Instructions are available to members only!
Any instructions with [brackets], refers you to the Technique Page in the Library of this site for printable free how-tos.

Click the Button above or link below for the
Silk Ribbon Embroidery (SRE) Stitch How-tos & Tutorials.
~~~
The blocks will be connected to others to make a wallhanging
(quilt-as-you-go method).
There is an idea at the top of this page, how you can make this block an individual wallhanging.
~Come Back in 2015 for the Final Two Blocks~
Previous Blocks
~~~
~2015 Block of the Month Series~
Exploring More Scrappy Quilt Designs
~~~

Sign Up for the newsletter to receive the email notice when the next Block of the Month is posted.
The information you send is for our files only!
~~~
I have 4mm Silk Ribbon packages with 16 different colours, available to purchase if you're interested.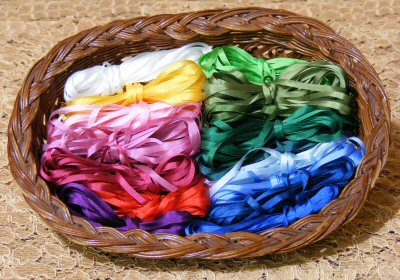 Please Note: These are not the only silk ribbon colours I will use for the Celebrating Flowers Series.
~~~