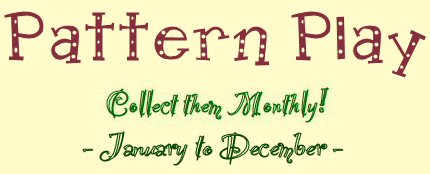 Free Block of the Month Quilt Patterns

As a Thank You! for visiting you are welcome to print these

instructions.

It is available free to non-members, this month only.

For a tip about printing this page, click here.

To see the Past Blocks of the Month Picture Gallery, click here.
.
For quilt pattern notices & more quilty fun through your Facebook, click the 'Like' button below...Thanks!
Members have access to the whole Pattern Play quilt instructions here.
All Past Block of the Month Instructions are available to members only!
Any instructions with [brackets], refers you to the Technique Page in the Library of this site for printable free how-tos.
WOF = Width of Fabric
~~~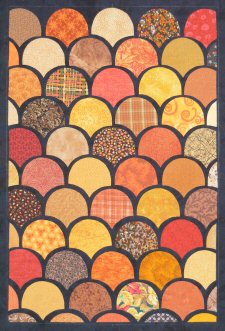 A~ Background 13" x 19"
Choose either Black Tone-on-Tone to look like faux stained glass or Grey Tone-on-Tone to look like faux tiles.
Plus...
Yellow, Orange, Brown & Red scraps
1. Appliqué the shapes [Fusible Appliqué] onto the Fabric A background as illustrated in the layout guide.
Request the free Pattern Play October Pattern here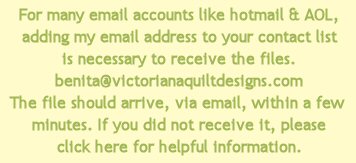 ~~~
Use the blocks you collect in this series in several ways:
Tablemat or Placemat

Wallhanging

Full Quilt
~Come Back next month for the November Pattern~

Sign Up for the newsletter to receive the email notice when the next Block of the Month Quilt is posted.
The information you send is for our files only!
~~~