Victoriana Quilters is a large resource and community for quilters', including:
| | |
| --- | --- |
| | Free Original quilt patterns (with membership) |
| | Free Block of the Month |
| | Free Quilt Patterns |
| | Free Printable Quilt Labels |
| | Free Charity Quilt patterns |
| | Free Beginner's Quilting Online Class and Free Crazy Quilt Online Workshop (with membership) |
| | Free printable quilting technique instructions |
| | Free quilting designs and other information in the Library |
| | Free Quilt Calculator Charts |
| | Free Printable Quilt Graph Paper |
| | Quilt Gallery |
| | Used Quilt Books listing |
| | Your Quilting Stories |
| | And more! |
Members can download free instructions for my original quilt patterns, as well as have access to the Beginner's Quilting Online Class and the Crazy Quilt Online Workshop; Scraps section; past Block of the Month instructions, a large quilt Block Index with links to instructions and the Members Notebook!
All quilters' can take advantage of the free...
And you can contact other quilters' to become pen pals, exchange charms or purchase used quilt books that your fellow quilters' have for sale.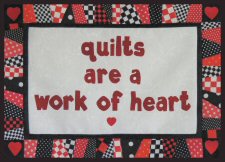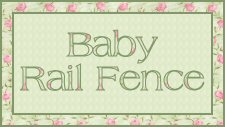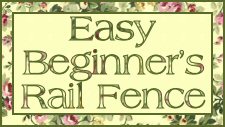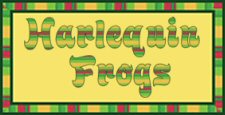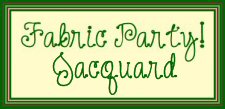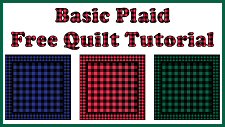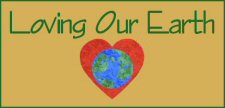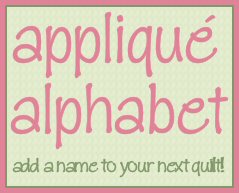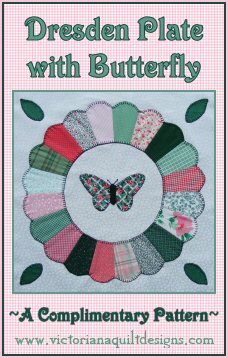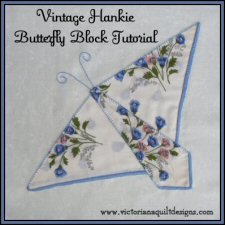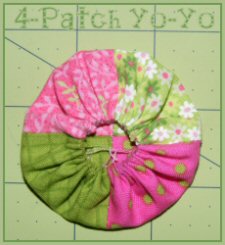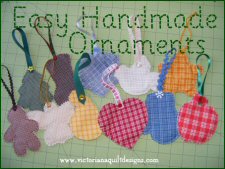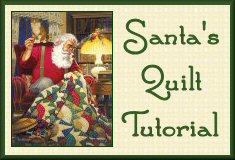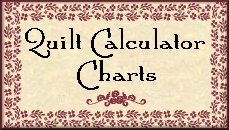 Free Quilt Formulas Chart, Quilt Binding, Backing, Cutting Strips & Squares and Triangles & Setting Triangles Calculators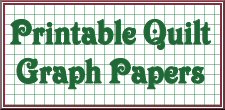 Free Printable Quilt Graph Papers.
Squares, Angles & Circles.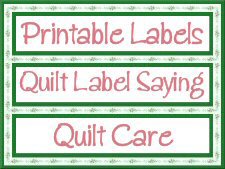 More...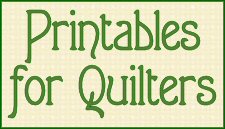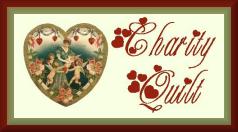 A free string piecing quilt pattern to use up your smallest scraps, a free Pinwheel quilt pattern and a free Cobblestones quilt pattern. Plus Links to where you can donate your Charity Quilts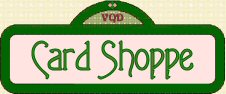 Printable Note Cards that feature some of my quilts, and my original art work.

~Gifts for You!~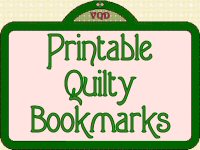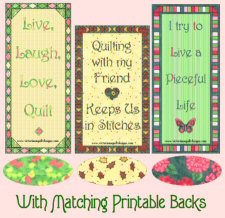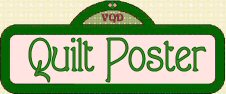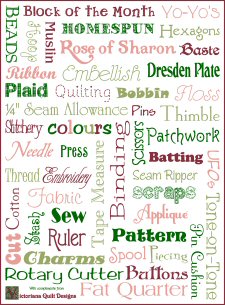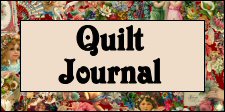 ~Also Available to Non-Members~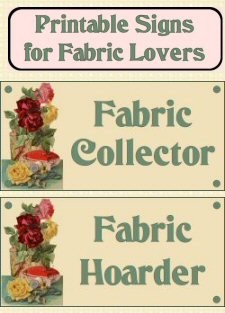 Free Printable Signs for Fabric Lovers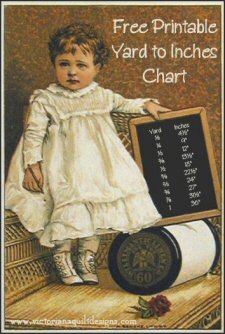 Free Printable Yard to Inches Chart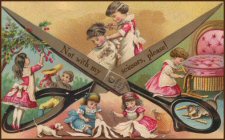 Not With My Scissors, Please!
- Free Printable -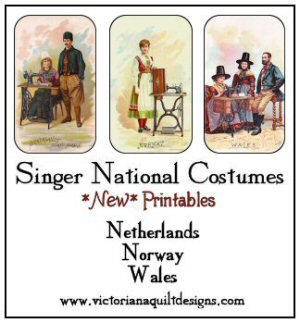 Printable Singer National Costumes pictures - The are now 12 to choose from available here.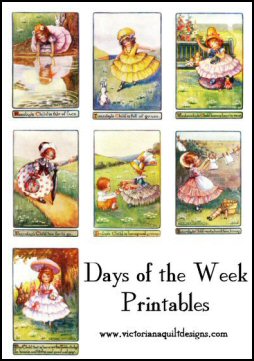 Days of the Week Nursery Rhyme Printables from available here.


~Solved~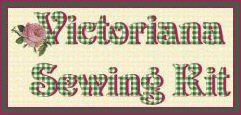 Collection Available to Members

We truly have an International Quilters Group...We have members from all of these countries:

Suggestions for what you would like to see included in this ever growing site are always welcome.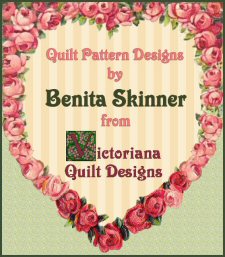 Directory of Quilt Pattern Designs by Benita Skinner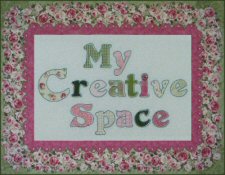 New Post: Hand Stitching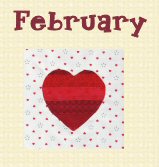 The 2016 Free Block of the Month!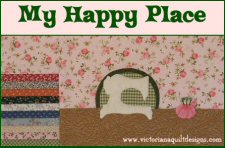 My Happy Place - The 2016 Member's Quilt Pattern Series - January Block & Design Preview!
How will you personalize this block?
I chose the rose wallpaper, and enjoyed finding the teeny tiny prints for the fabric stack - and hope to find a sleeping kitty to add to the top of the stack!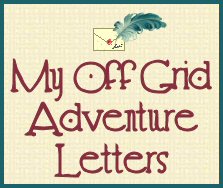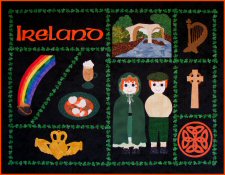 The Eighth in this Series of Quilt Patterns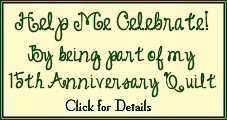 Please be part of my keepsake quilt.
I'm still collecting patches from my quilt friends All Over the World!

My 2015 Best Seller!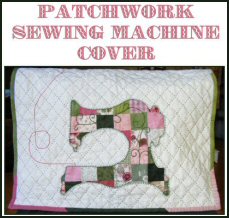 This Bonus Pattern (first in a series) is available here.
Special Member's Only Page here!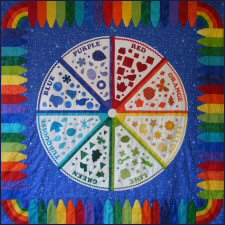 This is a wonderfully, colourful quilt for children. Appliqué & paper piecing are the methods used for this quilt pattern.
This exclusive quilt pattern is available for $15.00.
Full size templates, of course, are included.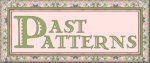 Quilting Tip: No Marking is required if the background fabric has a grid print, like this pindot.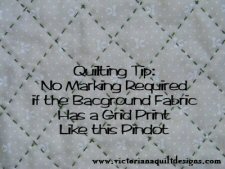 ~~~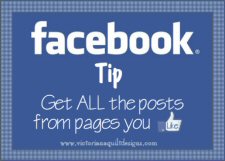 My 2015 2nd Best Seller!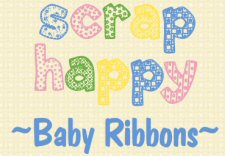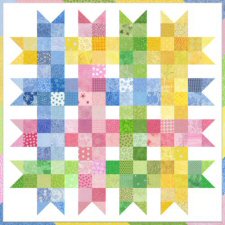 Scrap Happy Baby Ribbons Quilt Pattern with Scrappy Binding

My 2015 3rd Best Seller!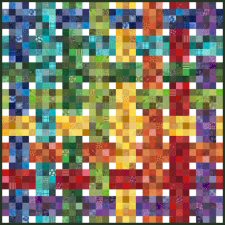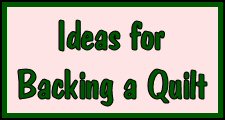 Idea #7 -Balance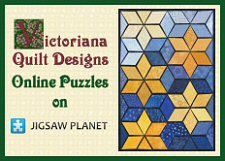 Victoriana Quilt Designs Online Quilt Puzzles!
Here's the link to start with Pattern Play Quilt #1
I look forward to adding more of my quilts as puzzles!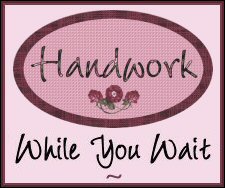 ~For Sharing on Your Facebook Page~


~ For Members Only ~


Do you have a quilting blog? - Let's swap buttons!
Plus - If you post about my site, please let me know!
I'd love to say Thanks by sharing your link on my Facebook page. :)


Quilty posts on Twitter!


I'm enjoying the visual inspiration there!

Contact a Quilt Pen Pal or Swap some Quilt Charms!
Come join our community!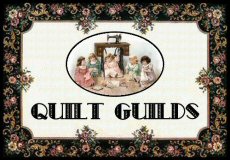 This Quilt Guild Reference List is where you will find a list of quilt guilds and groups from all over the world. If your group is not listed, let me know the details, and I would love to add them!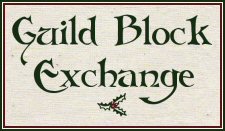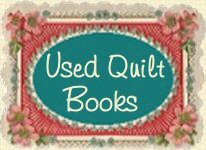 If you would like to buy or sell Used Quilting Books and Magazines...Do we have a listing for you!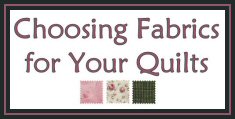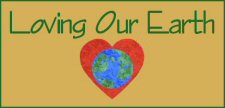 A Loving Our Earth Tiny Scrap Patch Project ~ Plus ~ How to put the blocks together, and what you might use them for!
Let's Get Scrappy!



Sign Up to receive the update
notices via email!


Everything on this site is for personal use only.