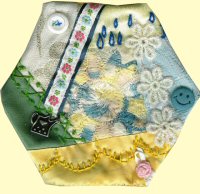 I used spring colors, yellow for the sunny days coming, green for the green grass starting to show. Blue for the raining days along with the rain drops (upper left). Pink flower is the first crocus I saw. Watering can because I'm outside getting my gardens ready, and of course the smiley face, so happy spring is finally here! I love going through my stash and picking scraps of fabric and making something so special.
~~~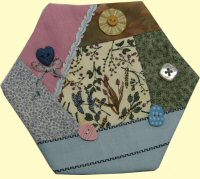 April is a special month in our family, we celebrate 3 birthdays, one is my husband's birthday and the other two are times to remember my in-laws on their special day. The three birthdays are represented by three buttons. Because I forgot all about Easter in March this year....I have added two Easter eggs to represent the holiday. The colours that I chose for the block remind me of how everything is brown at the beginning of the month and by the end we are getting some green and the flowers are starting to bloom.
~~~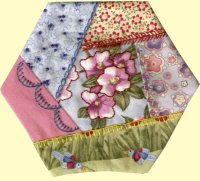 April is such a wonderful month. Flowers, blooming trees, blue skies, sunny days, and the music of birds singing to each other.
~~~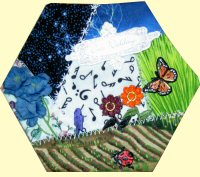 When I made this one I thought of the many flowers, the spring thunder and lightening storms. And don't forget the beautiful star filled night sky. And don't forget the butterflies and the small creatures like the Lady Bug which is my favorite. Then there was the music from all the birds returning, the newly plowed fields and in my part of the world there is the prairie grass. And then there is our Anniversary. I hope that symbol shows up on your screen.
~~~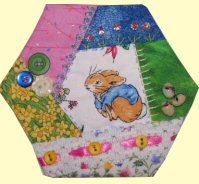 I decided to make my April hexagon an Easter theme, because it is usually later than it was this year. Ok, so the bunny is Peter Rabbit, and the egg shaped beads don't look like your typical Easter egg, but it's as good as my stash could deliver.
~~~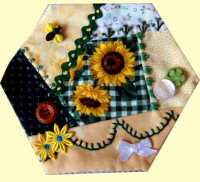 I like the bright and sunny look of my April block. It reminds me that the sunflowers and bees will soon be coming to my garden.
~~~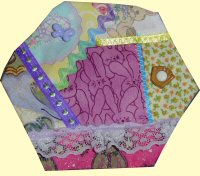 I put thoughts of Easter in there as well as spring, and then there is the start of baseball.
~~~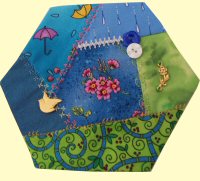 The fabric in my April hexagon represent rain drops and umbrellas, flowers starting to bloom, grass, vines and leaves.
I embroidered with machine stitches.
My embellishments are flower buttons, a flower charm, a blue bird and glass crystals.
~~~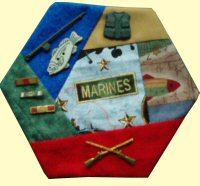 The memories in this block are for my husband reaching a milestone birthday. Looking back with pride for spending ten years in the Marine Corp. His favorite hobby has always been fishing.
~~~