.
Request the Patchwork Baby Teddy Bear Template here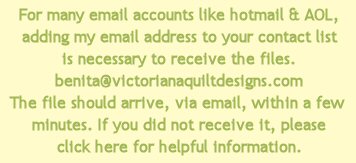 3. Lay out the small squares for both sides of the teddy bear into a pleasing arrangement, with 4 squares across and 5 squares down.
4. When you are happy with the arrangement, collect the patches into 4 Patch sets, taking them from the left to the right & top to bottom and stacking them with the most left patch on top.
Tip: Number the sets (I have small cardboards with numbers I keep for this) and hold the sets together with a clothespin.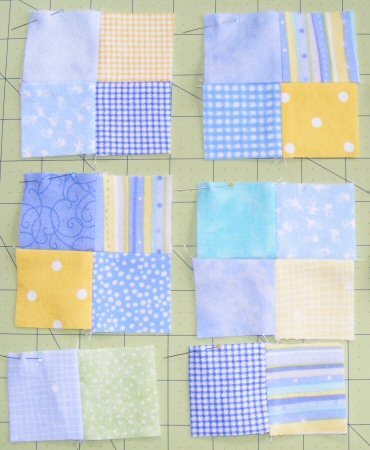 5. Sew [Machine Piecing] the patches into 4 Patch units by sewing the patches into pairs first.
Tip: Before placing two squares right sides together, place a pin in the top left corner of left patch of the pair. Keep these pins in until the corner is joined to the next patch. This helps you keep track of which is the 'top left' of the pairs/sets of pairs, keeping things straight while you chain piece your patches.
6. Press [Pressing #1] the seams open.
7. Sew the pairs together into 4 Patches, matching the seams (*See the pinning tip below).
*Perpendicular Pinning Tip: Place a pin in each seam of both the rows you are joining. Don't anchor them. Hold the pin perpendicular (90*) with your first two fingers (underneath) and your thumb on top. Now place an anchor pin (going in at an angle) beside it. Remove the perpendicular pin after you've anchored it. Do the same for the other seams along the row, aligning the raw edges at the top.
This pinning method keeps the seams from shifting out of place.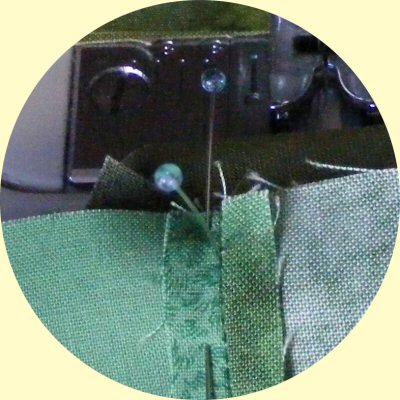 When joining 4 Patch blocks, adding an extra pin through the center of both blocks, before you add the anchor pin, is also helpful.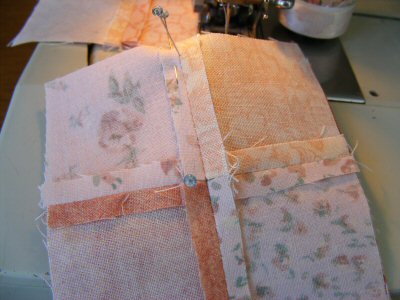 8. Press the seams open.
9. Sew the 4 Patch units together into rows, matching the seams.
Sew the rows together, matching the seams.
10. Press [Pressing #3] the patchwork block.

11. Layer the patchwork blocks on top of the flannel batting patches.
Draw the outline of the teddy bear using the template, onto the flannel batting fabrics with a mechanical pencil.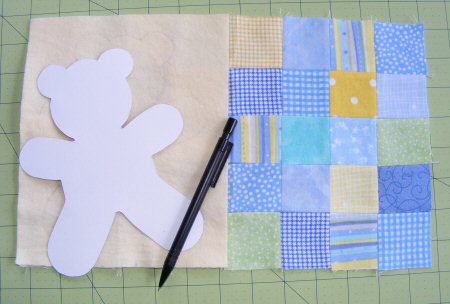 12. With two strands of the embroidery floss that matches the patchwork colour, quilt a running stitch [Stitches·#3b] across the blocks, as shown in the picture, to add a charming detail. Use the drawn teddy line as a guide as to where to start and knot off your stitching.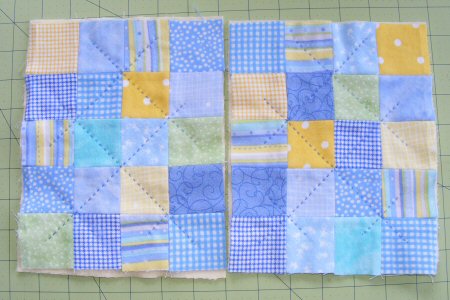 13. Pin the front and back pieces right-side together. Sew around the teddy bear shape, along the pencil line, beginning and ending at the template marks on one of the legs, leaving the opening to turn the teddy bear right-side out.
14. Trim the extra fabric around the teddy bear shape, about ¼" from the pencil line, using pinking shears. Carefully clip into the corners.

15. Turn the teddy bear right-side out.
Stuff and stitch the opening closed.