A yearly membership is only $25.00 (USD). Canadians: See below.

Membership allows you to download free the new quilt pattern(s), plus the Victoriana Quilt Designs original quilt patterns listed on the Free Quilt Patterns Page.

You also get access to the Beginner's Quilting Online Class, Crazy Quilt Christmas Workshop, Applique Basics Workshop, Tips & Tricks for Pretty Flat Patchwork with Open Seams, the Block Index, past Block of the Month patterns; Scraps section, the Members Notebook and a Mystery.

Members are also able to purchase the past Victoriana Quilt Designs patterns for a deep discount nominal fee. See these quilt patterns and more details on this Quilt Patterns Page.
For More Details click here.

Please be sure you submit your email address here to receive my update newsletter. It arrives a few times a month and will tell you what's new at the site.

Plus Join Us on Facebook for News, Quilty Talk & Picture Inspiration!



When payment* is received, you will be sent a password (via e-mail) and the information you will need to receive the patterns.
The patterns are in .pdf format. This allows you to easily print the pages, as designed. All the how to information for downloading and printing your pattern instructions can be found here.
If you do not have the Adobe Acrobat Reader, it is free to download from the Adobe website. You will find the link to their site on the Downloading & Printing information page.
*Payments may be made by cheque or money order to the address below -or- with a credit card (Visa; Mastercard; Discover; Amex) through Pay Pal's Instant Payment Option.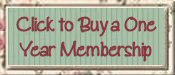 Click Here to purchase the regular membership using the secure online credit card payment options.
And start one of the patterns TODAY!**
By subscribing, you agree that you will abide by the personal use only guidelines.

A note to Canadians!: When paying by cheque or money order your membership is the same amount - in Canadian dollars.
Note: GST/HST for your province must be added.
[GST# available upon request]
Send name, address, e-mail address and payment to:
Victoriana Quilt Designs
P.O. Box 1171
Middleton, N.S.
B0S 1P0 Canada

**Provided your order is received and confirmed by 8am (AT),
Monday to Friday. Memberships are registered manually once a day.

If you have any questions, feel free to contact me.

Content & Graphics © 2001~ Victoriana Quilt Designs
All rights reserved. Unauthorized use is strictly prohibited.
Welcome | Victoriana Quilters | Block of the Month | Pattern Page | Library
Membership | Schoolhouse | Gallery | Sharing | Feedback & Links | Card Shoppe