1. Decide what size bed the quilt will be for and using the chart below (Bed & Quilt Sizes) and find your approximate quilt size.
2. On ¼" graph paper draw out your quilt, to scale. Include your blocks, sashing and borders. Colour with pencil crayons.
3. Measure the sizes of each block patch and determine the cut sizes by adding ½" seam allowance to the finished measurements. For sashing and borders, add the seam allowances and extra (about 6") to the length.
4. List how many of each of the different sizes you need and in which colours.
5. Using the charts, calculate your yardage estimates for each fabric. Round up your calculations. Now add ¼ to ½ yard extra.
Here is a reference chart for you to request, via email.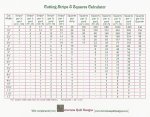 Cutting Strips & Squares Calculator


~Useful Measurements~
1 yard of quilt fabric weighs approximately 4 oz.

1 pound of quilt fabric is about 4 yards.

A full size scrap quilt takes about 2 pounds of fabric pieces.
Twin Quilt takes approximately 6 yards of fabric

Queen Quilt takes approximately 10 yards of fabric

King Quilt takes approximately 12 yards of fabric