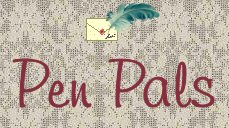 Here is a list of Quilters who are looking for pen pals with quilting in common.
~To contact someone below click on their name for an email link.
~You can also have your name posted to this list. Below you will find a form to submit your name and email address. Names are listed for 6 months. Please resubmit your request, at that time, if you wish to be listed for a longer period.
Theresa ~ New York, USA
Rachele ~ Columbiaville, MI, USA
Bonita ~ Jacksonville, FL, USA
Joann ~ Madelia, MN, USA
Denise ~ Waverly, WV, USA
Carolyn ~ Weatherford, TX, USA
Maxine ~ Northwest Brook, NL, Canada
Sherri ~ Phoenix, AZ, USA
Fredia ~ Lewisville, TX, USA
Kay ~ Casper, WY, USA
Shiela ~ Mercer, PA, USA
Shari ~ Cambridge, ON, Canada
Ursula ~ Perrysville, OH, USA
Sharon ~ Sullivan, IL, USA
Kathy ~ Mooroolbark, VIC, Australia
Sheila ~ Plymouth, NS, Canada
Cindy ~ Acampo, CA, USA
Bobbie ~ Southampton, PA, USA
Kat ~ Gordonsville, VA, USA
Kerry ~ Redmond, OR, USA

Post my name please!