If you have a picture of your blocks and memories to send, please email them to me, for inclusion on this page.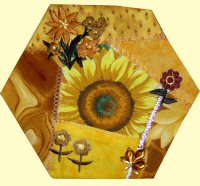 This block contains some of my favorite colors. And being from Kansas I love the Sunflower. These colors remind me of the months to come. Summer winds down and the colors of fall take over.
~~~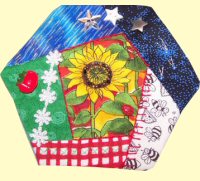 In my August block my fabric choices show my favorite sunflowers, picnics, thunderstorms, the Perseid meteor showers, Tomatoes in the garden, lots of bees too.
~~~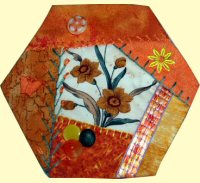 As summer fades and autumn is just about here this block reminds me of all the pretty colors to come such a beautiful time of year.
~~~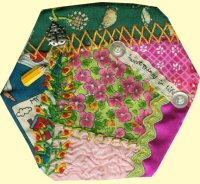 Pencil and the blue fabric for the start of school. Green fabric is still gardening outside! The rest of the block is some of the fabric I used for my grand daughters quilt, also the shower she had this month. The little ribbon says "Sweet Things in Life".
~~~