If you have a picture of your blocks and memories to send, please email them to me, for inclusion on this page.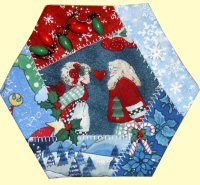 I have included Christmas with Santa and Mrs. Claus. The lights and candy canes are for the tree. We have lots of snow and therefore the blue and red fabric. To the left is the Ho, Ho, Ho which comes with Christmas. At the bottom is the field of winter. And of course we see Holly wherever we go. This is the last of the wonderful colors for awhile.
~~~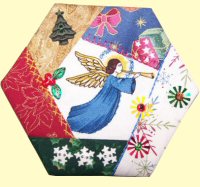 December heralds in the Christmas season.
~~~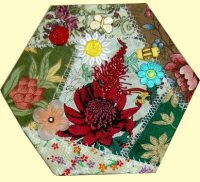 Just a lover of flowers. Some of these are found here in America and some are native flowers of Australia.
~~~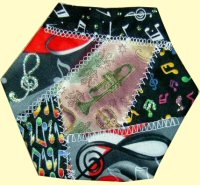 My husband and I really enjoy music, especially that of the 60's.
~~~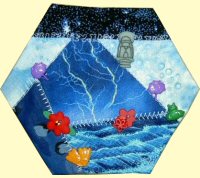 In 2008 we had a lot of rain. It seemed that it rained all of the time. I had to make one block to show the storms. The lantern is for the power outages, it called for an easy reachable umbrella and of course our water friends. The good thing is we had lots of beautiful flowers.
~~~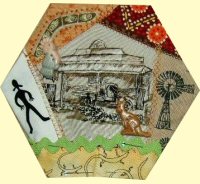 I have a very dear friend in Australia. So this block is in her honor. As you can see I have included the Aborigine, the outback home and truck, boomerang, native flowers.the ever present windmill, then in buttons and fabric I have included some of the native wildlife. Must add that my friend does not live in the outback. She is a city girl.
~~~