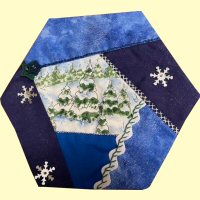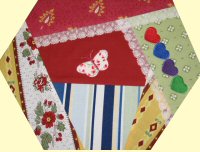 This is my summer hexagon. I went to a wedding in Sydney and also met some comparatively newly wed. Hence the lace and the hearts.
Australia has been hot and dry hence the red centre. We are getting a hint of green and still a few flowers.
My son sent me a butterfly pendant from Scotland, so I have represented January happenings. Haven't done any embroidery yet to the patch.
~~~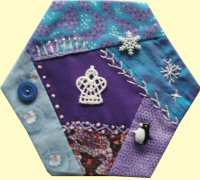 A piece of fabric from one of my mothers dresses, and a button off the dress. Her birthday is in January and she would have been 95 this January. I didn't put any other stitches or embellishment on her section because she always liked to keep things simple.
Eight little candles with beads for flames, for my granddaughters eight birthday in January.
Brown print fabric and lavendar speckled fabric were the two fabrics I used for an on online mystery quilt on New Years Day 2008. Got the year off to a good start!
Penguin button for the birthday granddaughter because she loves penguins.
Purple silk was given to me earlier this month. Sales samples given away by a company to a friend, and she says she will give me more for use in my projects. Yay.
Snowflakes for a few snowflurries we have had this month.
Lace angel In center I made on my embroidery machine. Another friend invited me to join a group that sends lace angels anonymously to people in need of encouragement. I just began doing that.
~~~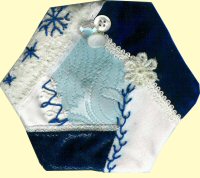 I picked the blue for the coldness in Missouri, the white for the icey storms we had last year , hoping we don't have it this year.I'm looking for a birhtday charms for the 5 birthdays I have this month!
~~~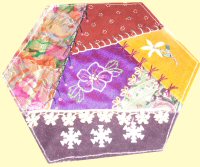 The center was done by hand embroidery using the tissue transfer method, you will find my thoughts of winter in Maine with the snowflakes. just above the snowflakes you will find the antique lace from some pillowcases that belonged to my Mother-in-Law who was 94 when she passed away. The feather stitch has French knots on the tips and there are glass beads on the tips of the blanket stitch.
~~~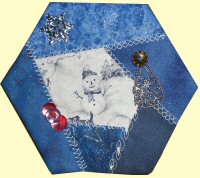 My snowman is for all the ice and snow that was on the ground for 7 weeks. We usually get snow and it melts before the next one. So, that is also the reason for the silver snowflake. I thought maybe the other ornament might pass for a snowflake also. The red and pink buttons are just there for color.
~~~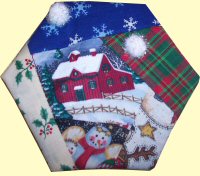 These fabrics are just some from my stash. January 19 we had the first snow since 1993 in South Alabama. Thought these would remind me of the snow.
~~~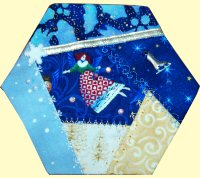 I live in Canada where January is very cold and icy with blowing snow.
My hexagon has an angel in the center with fabric that reminds me of the snow and ice.
I used decorative machine stitches and embellished with metallic ribbon, a snowflake button, a figure skate and glass crystals.
~~~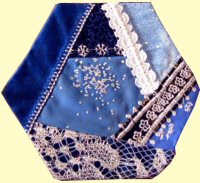 This is the first time I have made a Crazy Quilt so I am having a lot of fun with it. I am totally using things I have around the house .. have not bought one thing. Shiny fabrics from costumes I have made for Grandchildren (two are actors), one does Ballroom Dancing, so I make lots of costumes. Leftover Ribbon from a granddaughters quilt I made. Lace and beads are in a drawer with other bits and pieces from various craft projects over-the-years.
~~~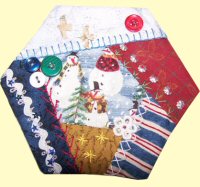 I am only using scraps of fabrics, buttons and beads from my stash. Hopefully I can get through the year without buying anything.
The January Block has a snowman because we have lots of snow this winter in Ontario, Canada. The winter flowers are frosty white, there is a lace appliqué "snowflake", and the rickrack with the star beads is a bit of "Happy New Year" flash. 2 shimmering birds cross the frosted sky. I have a different snowman print on the back.
~~~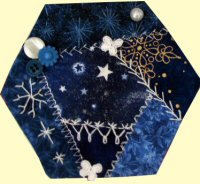 I did some hand stitching and a little by machine. I like the cool blues for January.
~~~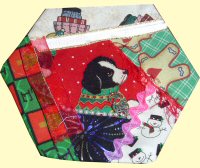 I have a dog in the center because our dog loves the holidays and he also gets many presents.
~~~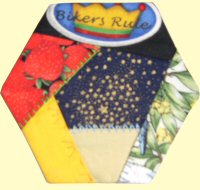 January reminds me of my husband's birthday. He is an avid motor bike rider. It is also my daughters's birthday in January and she loves strawberries which are so sweet and juicy in January. The stars in the middle represent Australia Day Fireworks and Wattle is a native Australian tree. The yellow depicts the sun and the beige the sand.
~~~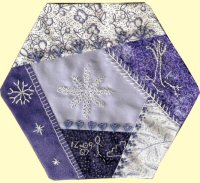 January was not a pleasant month for me. This patch depicts my December fall on my basement steps. Broke my shoulder and a few bones in my pelvis. That was also the day we began a week without power. The patch on the far right is supposed to look like my trees with all the broken limbs. I used colors that I think look cold and icy.
~~~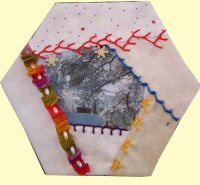 January was the first measurable snowfall of the season, and a picture from our window printed on fabric.
~~~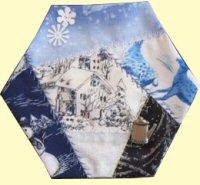 January was very cold and snowy. My husband had surgeory that did not go well in Calgary and I drank lots of coffee. The deer were here when I came home and the snowman is for my grandson who kept me going.
~~~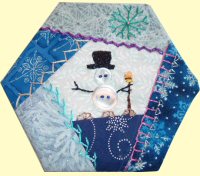 The change of the seasons and important dates of the months is what inspired my fabric choices. When growing up we celebrated every month weather it was Valentine's Day or the dog's birthday!
~~~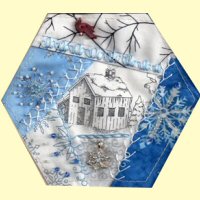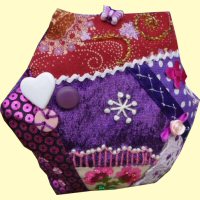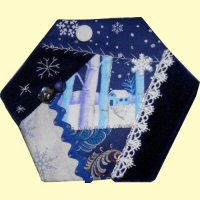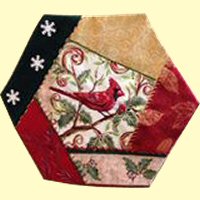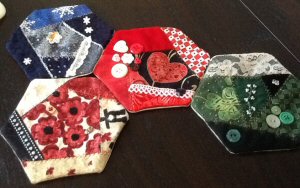 ~Diane Smale~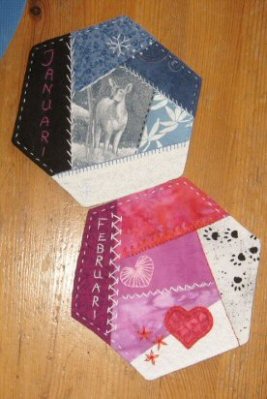 ~Gunilla Appelgren~