If you have a picture of your blocks and memories to send, please email them to me, for inclusion on this page.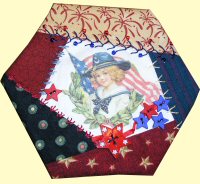 July means Independence Day, fireworks, stars, and red, white and blue to me! I intend to feature a Dover clip art print out in each block that corresponds to that month.
~~~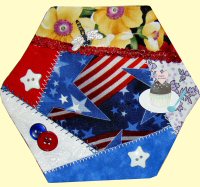 July being my Nations Birthday I had to use red, white and blue. Added to that July is my birthday so I put on a cupcake. July is a good month for beautiful flowers. The buttons are just for added color.
~~~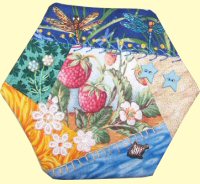 In my July block, my fabrics represent all my favorite July activities. Picking Strawberries to make jam, walking and playing on the beach, swimming, fishing, dragonflies and starry skies.
~~~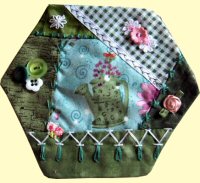 This July block reminds me of my mother she collected water cans as I remender she had one that looked just like the one i put in this block lots of memories of her watering her plants.
~~~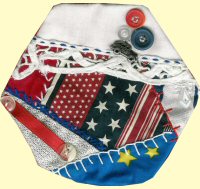 Little car charm, and the silver fabric, is for the Mazda 3 my dear husband surprised me with on our 20th Anniversary. Red, White and Blue for the 4th of July. And the blue with stars is for the many beautiful nights we spent out doors this summer.
~~~