If you have a picture of your blocks and memories to send, please email them to me, for inclusion on this page.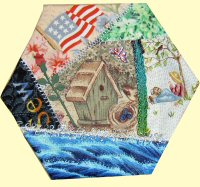 The water is for the weekend getaway at the lake. June 14th is Flag Day. The bird house is for the many birds that I see daily, the little boy and the dog is for my childhood memories. Summer is a good time to sew and the green leaves of the tree provide wonderful shade. And then there is the rose which is for my very dear friend who lives in Australia. This month is her birthday.
~~~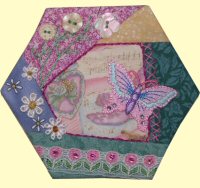 I started out with a wedding themed fabric in the centre, but it was too large a motif, so I added on of those stick on embroidered butterflies. It suited the fabrics I had picked. Lots of flowers, because there are lots of lovely flowers blooming in June, especially all the wild daisies growing at the sides of roads around here.
~~~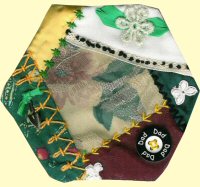 I chose green fabric and little garden shovel charm for the gardening I have been busy with. The center is for the color of my living room, the tan for the NEW carpet we installed. And the Dad Button for Fathers Day.
~~~