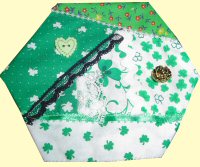 On St. Patty's Day, everyone is Irish, lol . I love the mix of the shamrocks and the little patch of spring flowers.
~~~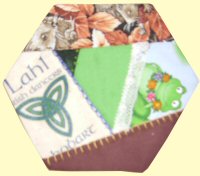 The brown leaves patch reminds me of autumn which is well on it's way. The Lahl Irish Dancing patch is for my daughter and me who do Irish Dancing. The green is for St Patricks Day. The frog is for my mother in law who is called Frog as her birthday is on St Patricks day and is always cold, has green eyes.....and really is a lovely lady. The chocolate represents Easter and the true meaning, plus also the fact that I can eat chocolate and not feel guilty.
~~~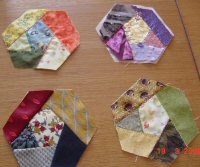 I'm from Toulouse, France.
I have quilted 4 blocks of the month, one with old cravattes (tie) in silk, one with differents material like velvet and cotton.
~~~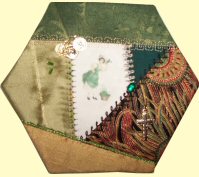 For the center of my March block, I found clip art of a lady with shamrocks and printed it on fabric. I added Dupioni silk and fabric that reminds me of Easter grass. I used machine embroidery stitches, bobbin work and also couched green embroidery floss. Embellished with gold coins (pot of gold), a cross for Easter and glass beads.
~~~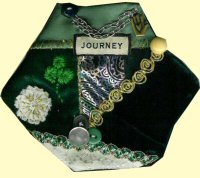 The Tie Button is for my husband and his NEW suit and tie job. The Journey tab is for our new life after 20 years in Army, and the hand with the heart is for the love I hold for my husband and America. Of course a clover and a snow flake for the snow we had the begining of this month. I picked alot of gold for the pot at the end of the rainbow, the middle for the spring colors starting to come up. And of course GREEN for March and my lawn.
~~~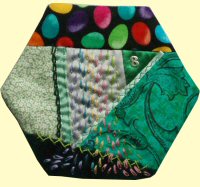 Cheerful jelly beans for Easter.
8 on green satin for Saint Patrick's Day eight years ago/ anniversary of a sad memory not to be described here.
Center block a silver gray silk ( like a cloud, hopefully with a silver lining) with tears falling like rain. Lots of tears of sadness and gladness for daughter and her three children leaving an abusive relationship. Finally!! Moving in with us until she can get her finances established.
~~~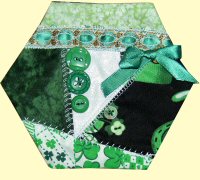 My center is white because where I live it is not unusual to have snow. Green is one of my most favorite colors. Green is also a sign of the changing season and new life to come. The buttons are there just to add a little more green.
~~~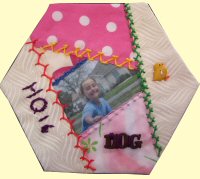 The center block is a picture of my Granddaughter Elissa. We were visiting in Texas and I taught her how to ride her bike, hence the big smile. I also made a major purchase of an HQ16 quilting machine, the duck is for Easter and the last item "dog" represents the new addition to our family, Copper.
~~~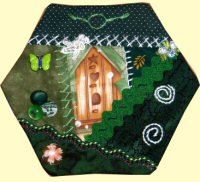 March is the month I get to work on my birdhouses for all the bird's I get in spring, so I thought this little bird house would be nice for my March month block.
~~~

March represents St. Patrick's Day, the colours that I chose for the block are of course, green. I forgot all about Easter being in March this year.....oh well, there is always next month.
~~~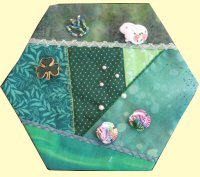 The green colour represents Saint Patrick's day, the bunny is Easter, the beaded tulips are an indication of spring and the fish with the tiny bubbles are a reminder of a time spent in Hawaii this past March.
~~~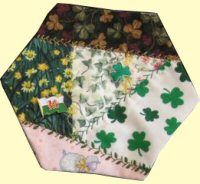 We lived in North Wales for a year and it starts out with St. Davids Day( the Welsh flag), Daffodills are everywhere, there are lots of lambs in the spring and of course St. Patrick's Day (shamrocks). Spring flowers as things were starting to look up.
~~~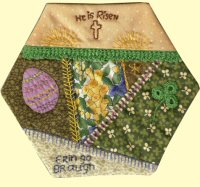 At the top of this block I put the most important thing, to me, that happened in March.
I crocheted the green edging and the shamrock for this block. The fabric in the middle is for the all the blooming things we see in March in South West Missouri.
~~~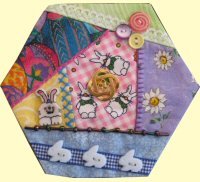 This is my Easter Block with the bunny fabric and bunnies. There is Easter egg fabric if you look really close.
~~~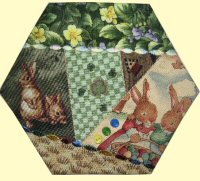 Having Easter in March was something that doesn't happen often and we still had brown grass! I satin stitched two rows which are supposed to represent coloured eggs and added some little buttons, also for eggs. Then there is the little patch of shamrocks in the middle for St. Patrick's Day.
~~~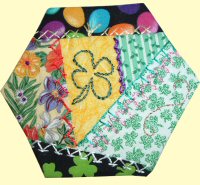 The change of the seasons and important dates of the months is what inspired my fabric choices. When growing up we celebrated every month weather it was Valentine's Day or the dog's birthday!
~~~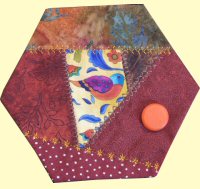 This block represents Spring to me with the return of the first Robin. There is also a button that was used on a sweater that I knitted for our oldest daughter.
~~~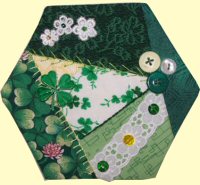 I went with my Irish heritage with shamrocks, clovers, and lovely greens. The big shamrock was a pin I have had for years, but the back was broken, so I have put it to good use now.
~~~