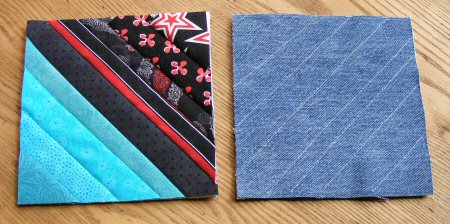 While machine sewing or chain piecing your quilts, instead of using an anchor cloth, sew these scrappy patches. This time & thread saving tip speeds up your sewing, as it eliminates the 'beginning' part of sewing, as you just continue to sew, and clip the threads between the seams.
As your pile of these blocks grow, you can use the quilt-as-you-go method to put them together. This project is very flexible, as you can make a potholder, placemats, or small to large quilts.
~Here's How Simple These Are~
Gather From Your Stash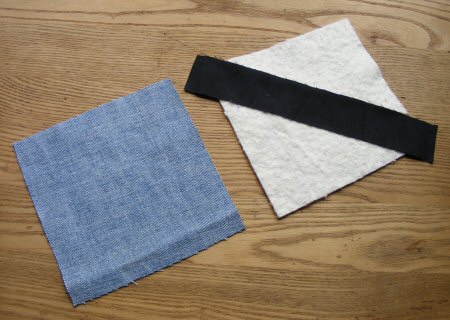 1. Layer the batting onto the denim square, and lay the tone-on-tone fabric strip right-side up, diagonally across the patch.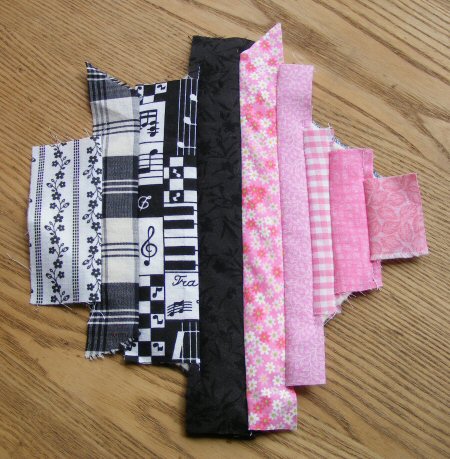 2. Choose fabrics that are similar colours for each side of a block.
Start by placing a strip along the raw edge of the centre strip.
Flip the second fabric over and press.
Continue sewing your strips of fabrics, one after the other, onto the batting and denim backing working out to the corner, until you have covered the patch.
You will not be removing this foundation fabric when you are finished.
Make sure the fabric scraps hangs slightly over the edge of the backing squares.
Trim the patch down to 6" square, from the backside.
3. Using the same colour fabric as the center strip and a ½" seam allowance, join the blocks using this quilt-as-you-go quilt sashing/finishing method: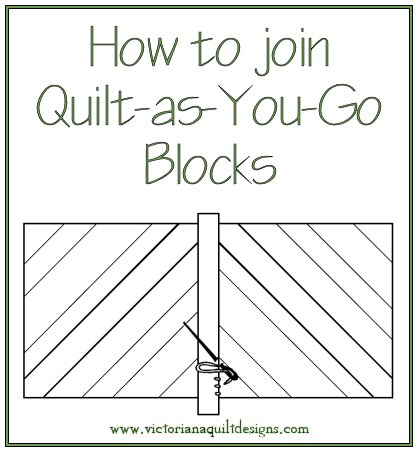 Request the free Quilt-as-You-Go Instructions here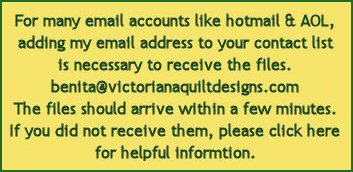 I've had such a wonderful time online, sharing my quilt patterns with you, since 2001.
A few years ago I wanted to set up an ongoing project to turn our scrappy string blocks (see how-to above) into quilts that will be donated to people who can use a quilty hug.
If you want to make your own quilt(s) to donate locally, I hope you will share a picture and the details with us, too!
Let's Get Scrappy!
~Pictures~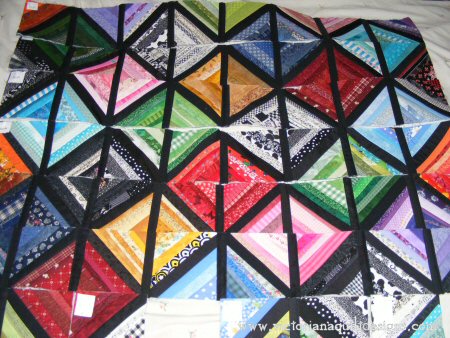 My Progress has picked up because I have a good reason to get some of these quilts made. This quilt is being made as a Welcome Quilt!
It includes blocks generously stitched and donated by Joan St. Marie!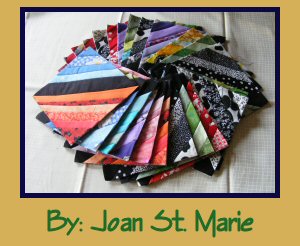 More details will continue to be shared on my Facebook page here:

Plus

Sign Up to receive an email newsletter when more details are announced!
The information you send is for our files only!