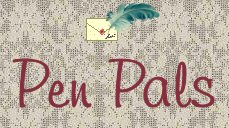 Here is a list of Quilters who are looking for pen pals with quilting in common.
~To contact someone below click on their name for an email link.
~You can also have your name posted to this list. Below you will find a form to submit your name and email address. Names are listed for 6 months. Please resubmit your request, at that time, if you wish to be listed for a longer period.
Pamela ~ Alfreton, England
Margie ~ Thunder Bay, ON, Canada
Jutta ~ Beaverton, OR, USA
Colleen ~ NSW, Australia
Traci ~ Anniston, AL, USA
Rosemary ~ Pace, FL, USA
Kathie ~ Wagoner, OK, USA
Jean ~ Ottawa, ON, Canada
Cathie ~ Vaureal, Ile de France, France
Kristen ~ Connersville, IN, USA
Francoise ~ Mons, Hainaut, Belgique

Post my name please!