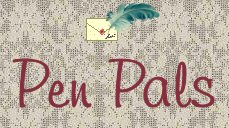 Here is a list of Quilters who are looking for pen pals with quilting in common.
~To contact someone below click on their name for an email link.
~You can also have your name posted to this list. Below you will find a form to submit your name and email address. Names are listed for 6 months. Please resubmit your request, at that time, if you wish to be listed for a longer period.
Brenda ~ Onancock , VA, USA
Paula ~ Birdseye, IN, USA
Jane ~ Milford, CT, USA
Laurie ~ Lake Orion, MI, USA
Naida ~ Tempe, AZ, USA
Lisa ~ Romsey, VIC, Australia
Maureen ~ Southold, NY, USA
Wendy ~ Lethbridge , Alberta, Canada
Claire ~ Winthrop , Arkansas , USA
Margaret ~ Thunder Bay, Ontario, Canada
Marion ~ Whitstable, England

Post my name please!