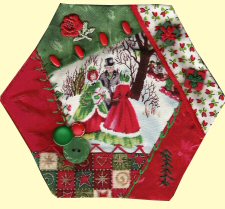 A collection of 6 fabrics that will remind you of memories through your December.

Design Note: You can use special scraps of velvet, satin, silk, moirés, velveteen, brocade, cotton with special prints, etc.

up to 6" x 3½"

A~ Backing Fabric

6½" square

B~ Scrap Foundation Fabric

6½" square
1. Cut the fabrics A + B [Rotary Cutting~ #F].
2. Trace the pattern onto the foundation fabric, including the lines and numbers. You will not be removing this fabric when you are finished.
Tip: Holding it up to a window works well.
3. Sew the fabrics [Paper Piecing] in numerical order, on the back side of the foundation fabric. Make sure the fabrics go over the edges of the hexagon (Diagram #1). Trim as directed.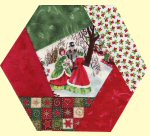 Diagram #1
Request the free December Stitch Guide and Template here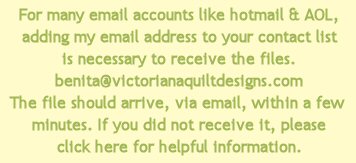 4. Place the Foundation Pieced Crazy Patch Hexagon right side down on the backing fabric. Sew along the sewing lines [Machine Piecing] along 5 of the sides, point to point, pivoting at the corners with the presser foot up and the needle in the down position. Leave the side marked open, to turn the unit (Diagram #2).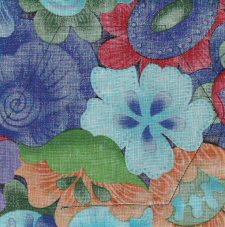 Diagram #2
5. Trim the sides and the corners and gently turn right-side out. Press. Turn in the open end and Blind-stitch it closed [Stitches~ #1].
6. Embellish each seam with ribbons or lace [Embellishments] and/or a row of decorative embroidery stitches [Decorative Stitches]. Use the Stitch Guide for ideas. Bury all of the knots between the layers.
Add more embellishments, by adding buttons, beads, charms, etc. to further decorate the block.
~Come Back in January for the Next Block~
~Finishing Instructions~
1. Make four additional blocks (extra templates available below) that represent extra memorable days you have throughout your year.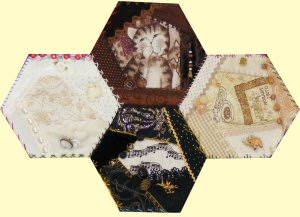 Layout the the 16 blocks, as illustrated in the Layout.
Request the free Extra Templates & Layout here
2. Beginning with the center blocks, stitch the sides of the blocks together, one at a time, as follows: Pin the right-sides of the blocks togther, matching the corners, and Blind-stitch the front patches of the blocks together [Stitches~ #1].
Lay the joined blocks flat, and Blind-stitch the backing fabric together.
Embellish that seam with embroidery [Decorative Stitches], etc, as before. Bury all of the knots between the layers.
3. Continue until all of the blocks have been joined, and embellished.
~~~
Purchase all 16 the templates as one package