Hello,
My name is Liesl. I'm a twenty-something artist from New Jersey. I have been sewing for at least ten years and it's become such a important part of my life. I was very excited when asked to share my Hexagon Eye Glasses Case here. I find English Paper Piecing, hexies in particular, very fun and almost therapeutic. They are small and very portable and the end result is so lovely. And what a great way to use up all those little scraps!
So here is a fun way to play with hexies—an eye glasses case! (Note: It is a soft glasses case, meaning it's only intended to protect from scratches and dirt.) Hope you enjoy using it as much as making it!
You know all those little tiny scraps your saving because you consider it sacrilege to throw any piece of fabric out even though you have no idea what you'll use them for? Well, this project may solve that predicament.
Hexagon Eye Glasses Case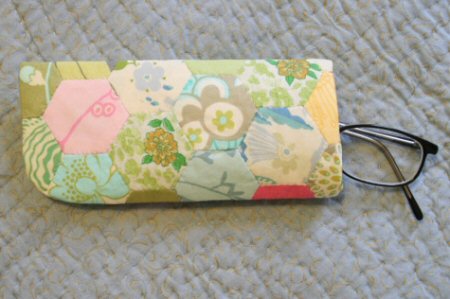 Finished size is about 3" x 6¼". These fit my specs perfectly, but if you have bigger specs, adjust accordingly.
(First of all, pardon my scorched ironing board cover in the photos…)


Fabric scraps for the hexagons
Freezer paper (or regular paper if you don't have freezer paper)
6¾" x 6¾" scrap of heavy weight fusible interfacing
6¾" x 6¾" scrap of fabric for the lining
Needle, thread, pins, iron, printer, etc.
Start by making a template for the case. You can either print mine as a JPG and Word Document. The Word Document should be to scale but if not, and if you use the JPG version, you'll have to adjust the sizing. There is a one inch scale as a guide. Or draft your own by cutting a 6¾" x 6¾" square from a piece of paper and round two corners. I used a glass to round the corners.
Next cut two 8½" x 11" pieces of freezer paper. Then print hexagon templates on the matte side of the paper. Cut out the hexagons (I used about 30 hexagons—so you need two sheets.) There are plenty of hexagon templates you can find via a Google search, to make your own.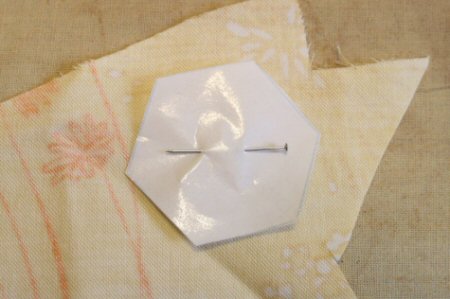 Pin the hexagon to the fabric scrap with wrong side of the fabric facing the matte side of the paper.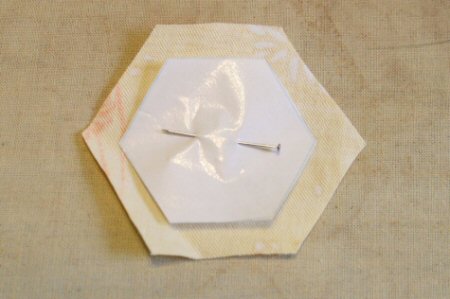 Cut a ¼" allowance around all edges.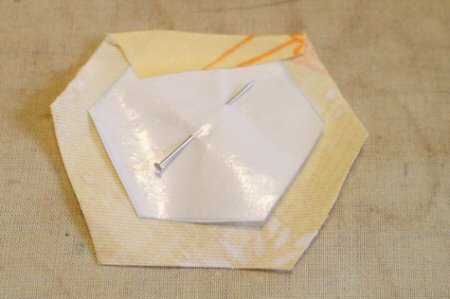 Iron one side down. The waxy side of the freezer paper will help hold down the fabric. Nifty, huh?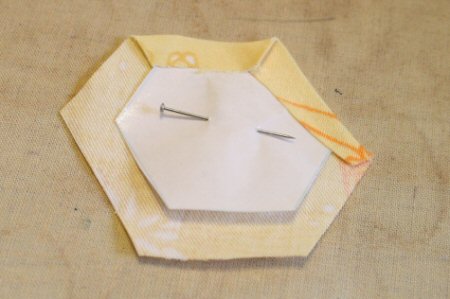 Repeat for the next side.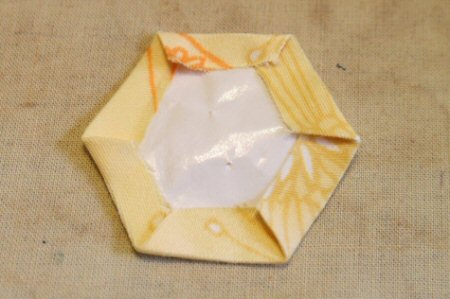 Repeat all around. Remove pin.
(If you don't have freezer paper, you can print on regular paper, simply stitch the edges down instead of ironing them. A simple Google search for 'English Paper Piecing' should provide plenty of info.)
Repeat for the rest of the hexagons in various prints.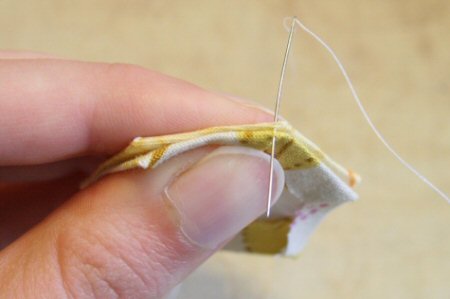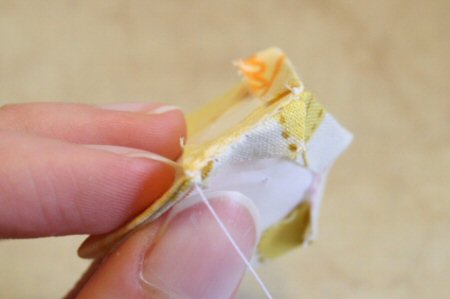 With the right sides of two hexagons together, sew the two sides of the hexagon together by hand using a tiny whip stitch.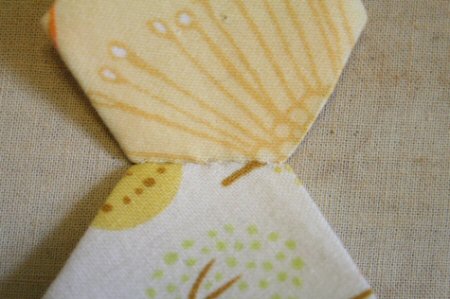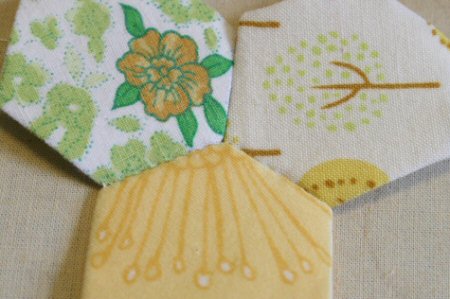 Open it back up and add another hexagon to the next edge. Whip stitch that one too.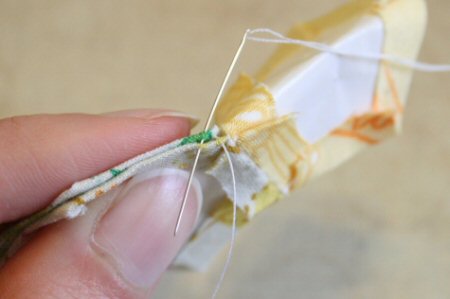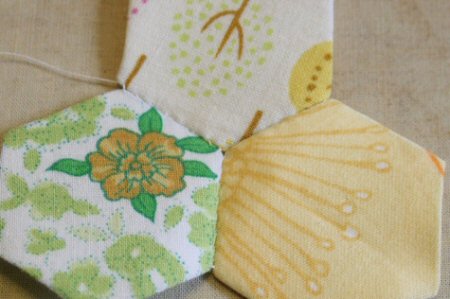 To do this third seam, fold the one hexagon in half to butt the two sides of the other hexagons together. This is so the finished product will lay flat.
Continue for the other hexagons.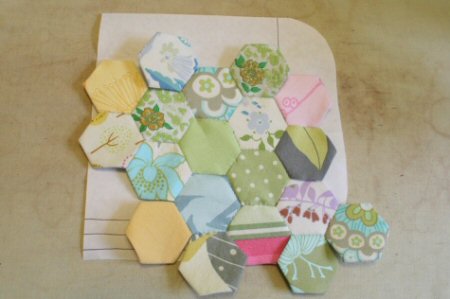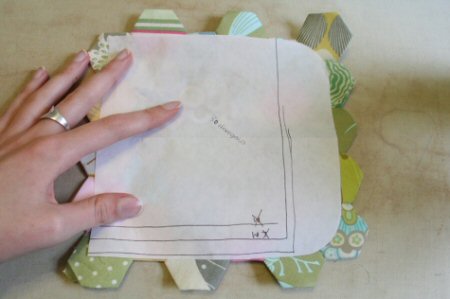 For this project, I made do with 30 hexagons. Check to make sure it will cover the whole template. Add additional hexagons if needed.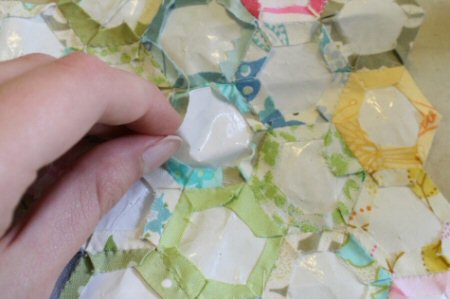 Carefully remove the freezer paper from all the hexagons.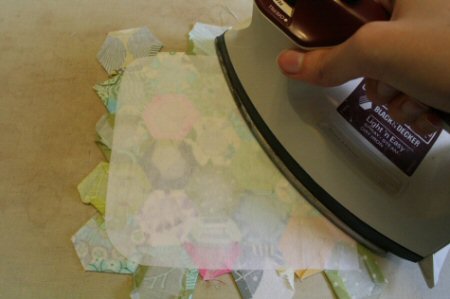 Trace the template shape onto the interfacing and cut out. Next iron the interfacing on the back side of the hexagons, being sure there is extra on all sides.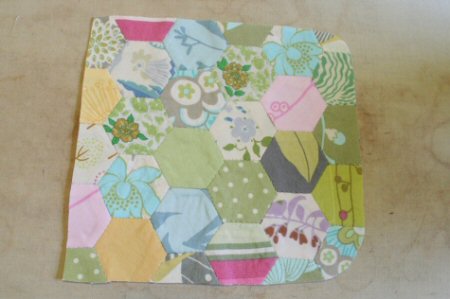 Cut off extra fabric. Flip over and iron again.
I forgot a photo for this step because I forgot to do this step but stitch about 1/8" of an inch along the one flat side. This will help keep the hand stitched seams from pulling apart when you turn it inside out later. It's not absolutely necessary but recommended.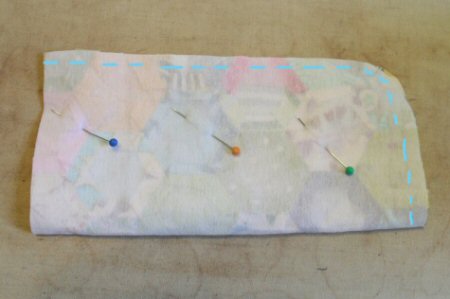 Fold in half, right sides together, and pin. Sew around edges as seen in photo.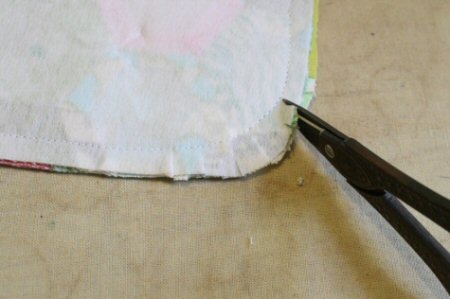 Clip rounded corner to ease.
Do the same for the lining, folding in half, right sides together and stitch, except leave an opening at the bottom. (Sorry I forgot a photo for this step as well.)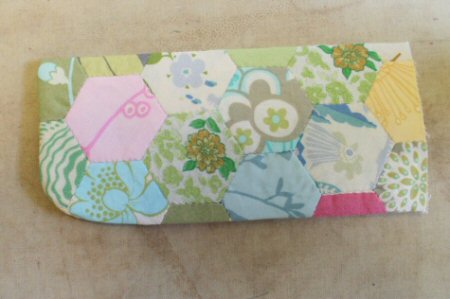 Turn the outer piece right side out. Use something like blunt scissors or a crochet hook to poke out the edges. Iron out any wrinkles.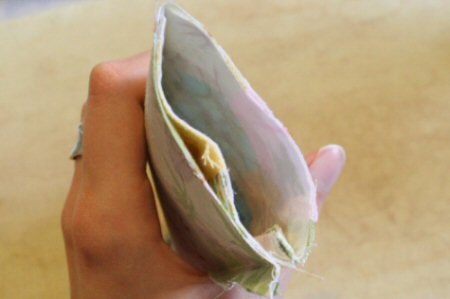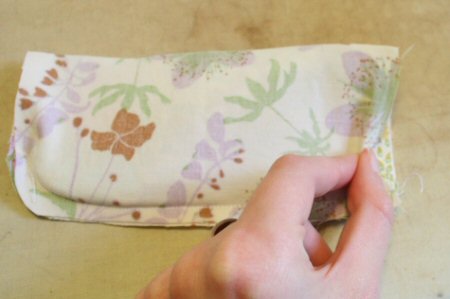 Slip the outer piece inside the lining as seen. (In this photo you can see where I left the opening in the lining.)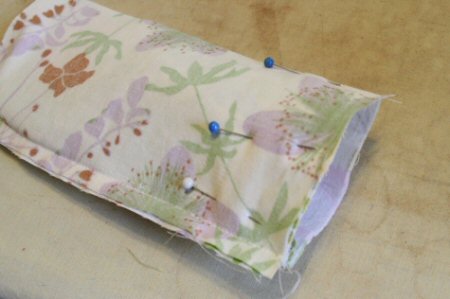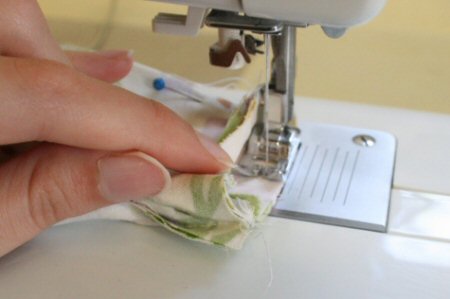 Pin and stitch around the top. My machine isn't narrow enough to slip it over the base thing-y, so I had to maneuver it a bit.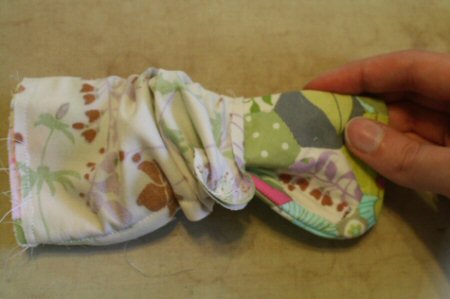 Pull the outer piece out through the bottom opening. Don't tuck the lining in yet.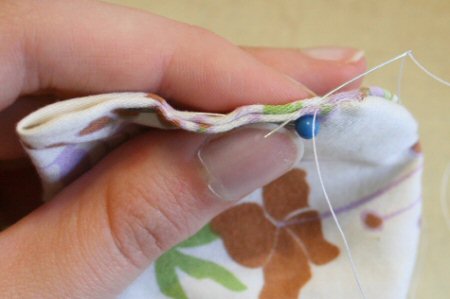 Whip stitch/Hidden stitch the opening closed.
Now you can tuck the lining in, again using a long, blunt object to push out the seams. You can also top stitch around the opening if you want.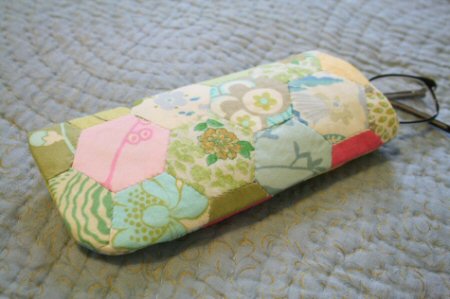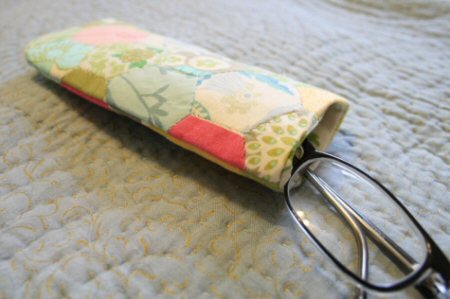 Voila!
(For personal use only, please.)
Questions, or errors, let me know.
If you make it, please share. I'd love to see. :)
~~~
Thank You Liesl...You've put together a wonderful tutorial with great pictures explaining all the steps. A perfect take-along project!
Be sure to visit Liesl's site here.