Hello everyone. My name is Kathleen Scribner, aka ' Kat '. I have lived in N.E. Indiana for nearly 20 years. I have had a serious affection for fabrics and needlework since high school. I am early retired and so fortunate to be able to spend my time creating with needle, threads, fabrics and computer. We are blessed with so many resources and people willing to share their skills.
I want to share my English Paper Piecing (EPP) kit with you. This method of handwork requires just a small amount of supplies. A pencil case can contain all the items you will need to have a take-along project ready. You could have a kit in the car and another one at your TV recliner. How handy is that!

needles
thread
thread conditioner
scissors
pre-basted fabric pieces
fridge magnet or small pincushion
needle threader (optional)
zippered pencil case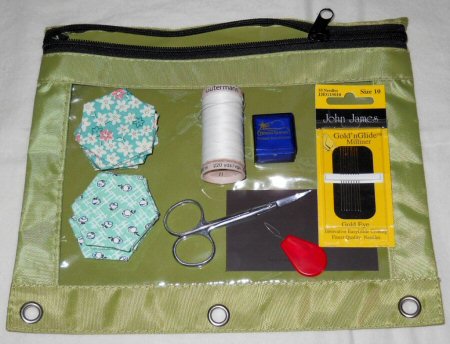 Here are photos of my EPP project which has become known as the "Queen of Diamonds". The mattress top of the queen-size bed requires 71 full diamonds, plus additional pieces to square up the top into a rectangle 60" x 80".
This photo is a mock-up in EQ7. It represents only the top of the mattress. There are still gorgeous borders to design!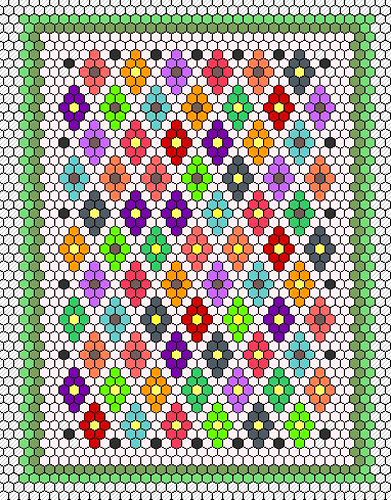 This photo is the design wall of the diamonds that are I've gotten done so far - 24 of them! Only a few more to go..........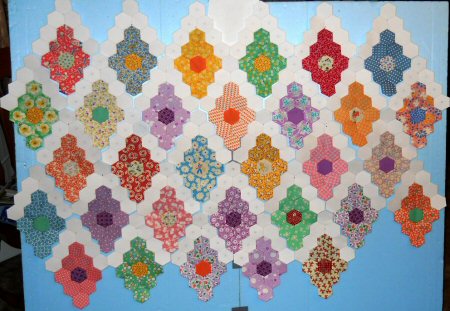 Queen of Diamonds

You can see how portable english paper piecing can be! I've posted a tutorial to help you start your own diamonds. You will find it here on my blog:

Thank you for visiting!
Your comments and questions are welcome.
~~~
Thanks Kat for explaining what you take with you in your sewing kit, and getting us started on our week of inspiration!
Be sure to visit Kat's site here.