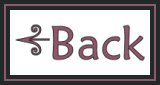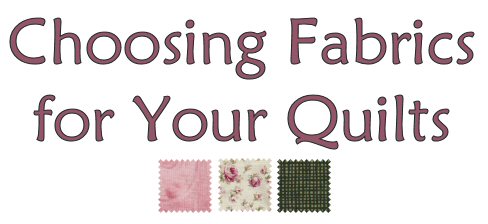 The fabrics you choose for your quilts are a very personal choice.
Within this series I'll include suggestions that may help with your choices.
Keep these tips and tricks in mind to guide you, but in the end let your heart drive the decision!
~Generally Speaking~
100% cotton fabric is recommended.
There are exceptions, like crazy quilting, keepsake quilts made from clothing, and even using vintage sheets that are blended cotton/polyester.
Tip: Wash all fabrics for the following 3 reasons: Advance shrinkage, releasing any extra dye, and most importantly to get the chemicals that remain from the manufacturing out, before you start work with them.
Choose at least two colours to work with (unless you are making a one colour quilt, of course).
Contrasts (one warm/one cool colour) work well.

The left side wedges of my Victoriana Dresdens Colour Wheel quilt are the cool colours, and the right side wedges are warm. The colours across from each other are contrast colours.

Basic Color Theory can be helpful, though your colour choices depend on the fabrics you have available.

Choosing lights, mediums and darks in the colours you've chosen is what will give your quilt some extra personality. A small amount of a slightly dark fabric can give it an extra depth.



My best tip is to start with a multicoloured print fabric that you LOVE and choose the colours from this print. You can use the multicoloured fabric as the main fabric or as a border, to tie the look together (or just use it as your colour inspiration).
If your fabric is from a collection look for some matching prints that are made to go with it.
Tip: Look for the coloured dots on the selvage and use this as your colour guide.
For the rest of your quilt fabric choices, make sure you use different scales and types of prints (e.g.: floral/geometric, etc.).
Use tone-on-tone fabrics, in place of solids, and one or two slightly too bright fabrics to give the quilt an extra spark.
For charm, the more variety of fabric you use, the better.
I also like to use a few plaid and dot fabrics in every quilt.
Tip: Your collection/stash of fabric might be a good source for small amounts of fabrics in just the right colours.
Be aware, when choosing your fabric for a project, of the 'neutral' colour in the fabric.
If you use white, a print with too dark an off-white neutral, might not work.
If you are using off-white (an aged look), you can convert a white neutral fabric, into an off-white neutral, by tea dying. Note: It will dull the colour of the fabric.



Each fabric plays its own role in a quilt.
Audition them for the part.
| | |
| --- | --- |
| 1. | Main Mulitcolour Print is the Star |
| 2. | Secondary Co-star Print |
| 3. | Background |
| 4. | Supporting Print |
| 5. | Tone-on-tones |
| 6. | Bit Players |
~~~
~Sampler Examples~
These fabrics are from my Rose Cottage ~ A Sewing Room Quilt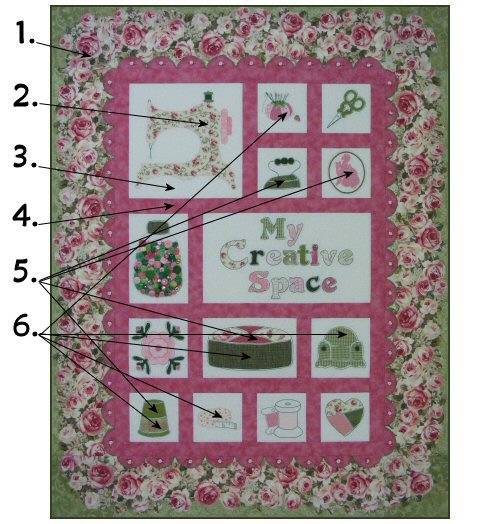 ~~~
These fabrics are from my Beginner's Sampler Quilt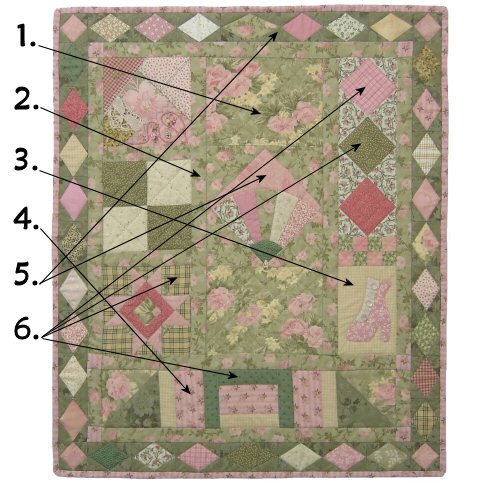 ~~~
These fabrics are from my Baby Sampler Quilt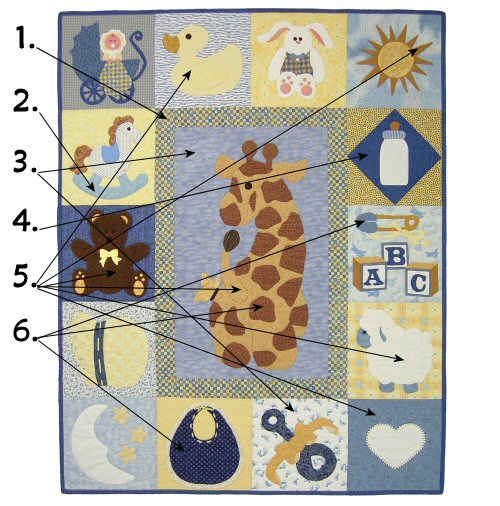 ~~~
These fabrics are from my Victoriana Album Quilt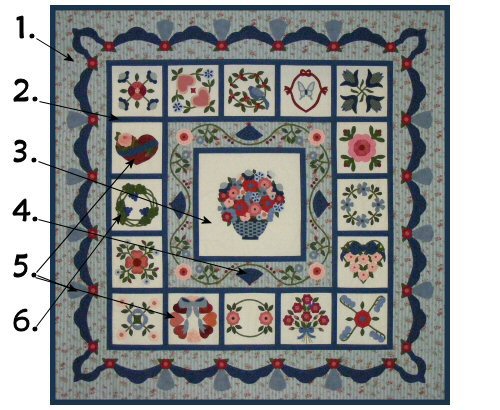 ~~~
~Table Toppers Example~
These fabrics are from my Table Toppers Pattern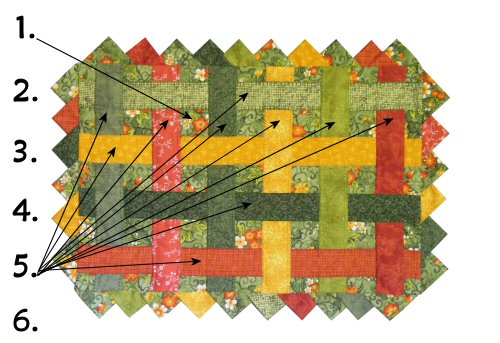 ~~~
~Patchwork Sewing Room Series Example~
I've collected these fabrics for my Patchwork Sewing Room Series

~~~
More Examples to Come...
This information is available for your personal use only.