Download Printable Quilt Journal (members only)
(File Size: 2.46 MB)
or
Request via email (members only)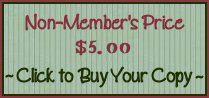 ~~~~~~~
~Quilt Journal Suggestions~
Print the file (full size) at your printer's "best setting" onto cardstock.
Print as many of Page #2 as you need for your quilts.
Details about your quilts to include:
~Size: The measurement of the width and length, plus you can include a general size like bed, crib, wall, lap.
~Quilt Style: Examples are Hand Pieced, Machine Pieced, Applique, Redwork, Paper Pieced.
~Made For : The person &/or occasion the quilt was made.
~Notes to Remember: Anything you wish to note, including how long the project was in progress; Awards it won; the city you made it in; What the label includes; Quilters name; Construction details.
~Swatches: 1" squares (pinked edging is a nice detail).
Use the back if you have extra you would like to include.
Place into binder sleeves within a binder (with a quilted cover). This allows for keeping extra information about the quilt within the sleeve.