~Anniversary Stitching Party Coming in June~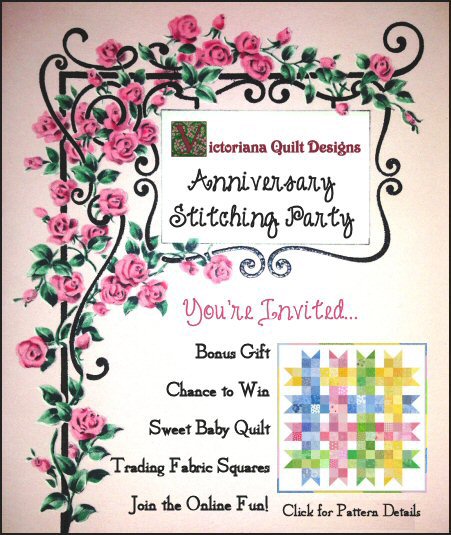 Join the Online Stitching Party Fun Coming in June!

How to get your limited invitation?

Purchase a copy of my Scrap Happy Baby Ribbons quilt pattern**
-You'll receive my pretty Printable Row Markers as a Bonus Gift ($5.00 value)
-Includes learning my easy method for making this Sweet Scrap Baby Quilt
-Trading fabric squares with others, to increase your selection (optional)
-Plus a chance to win a box of colourful scrap squares &
1 of 10 Printable Quilt Journals.

**Members Note: Those who already have their copy of the Scrap Happy Baby Ribbons quilt pattern & you're interested in joining the Stitching Party, please contact me for your invitation!

Join Early to Save Your Spot!

Free Block of the Month: A Novel Idea - May Flowerpot Block

A Bookcase Quilt using Novelty Fabrics
- Quilt Making Fun!

Make It a Pillow Bouquet: This lovely bouquet design turned into an pillow with the easy instructions, would make a wonderful Mother's Day gift!




Coming Soon ~> Teacher Thank You Mini Quilt, with phrase: 'Plants the seeds that make me think!'

Coming Soon ~> Happy Hour: This could be made into a table runner or wallhanging - Have fun making fabric cocktails!

Scraps Galore 2 Quilt: Turn your dark & light scrap squares into this great scrappy quilt, using my easy to make method!




Wedding Keepsake Wallhanging Quilt: A sweet keepsake wallhanging quilt for any Wedding or Anniversary, to be treasured for years!
Full alphabet and hanging instructions included.

Victoriana Album Stitch Along: Part #12 - Cornflowers
Details on the special Victoriana Album Stitch Along page.

If you were expecting to receive these emails and are still waiting email me.

Spring Stitch Along: Part #3
Details on the special Spring Stitch Along page.

If you were expecting to receive these emails and are still waiting email me.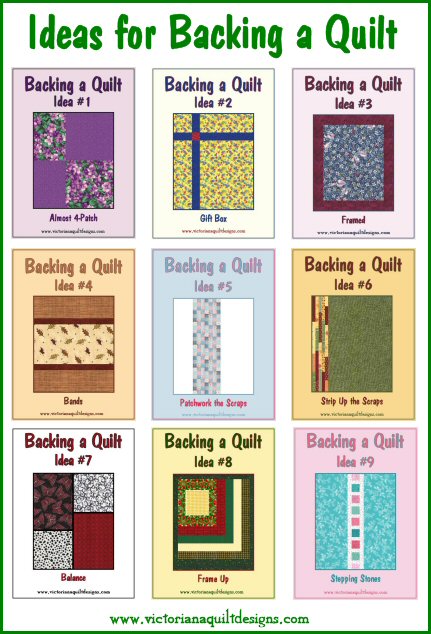 This collection of Ideas for Backing a Quilt is available in a .pdf file format.
Request it here.
Plus there are an additional 3 Ideas!
**SPECIAL NOTE: I've been sharing the calculations & instructions for these 12 ideas as the 2018 Victoriana Quilters Members Series (free with membership).
The Calculations & Instructions for the Idea #1 - Almost 4-Patch; Idea #2 - Gift Box; Idea #3 - Framed and Idea #4 - Bands are now available here.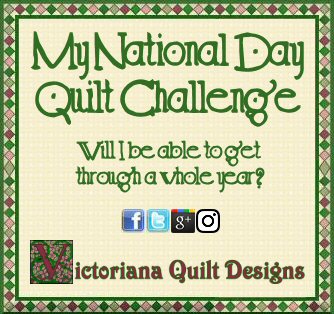 My 'National Day' Quilt Challenge!
#MyNationalDayQuiltChallenge
I decided to give myself a challenge - See how many of my quilts &/or blocks I can match up with the 'National Days' we hear about daily.
How many can I do? Will I be able to get through a whole year?
I've had this idea nagging at me for a while now and finally I decided to begin with the Global Cat Day share, on October 16th.
Feel free to follow along to see how I do!
I just might design (& share) some new quilt blocks to help me with this challenge - Stay tuned!
Please Note: Because of my very low electricity, I put this challenge on hold between January 8th & March 3rd.
I have started it up again!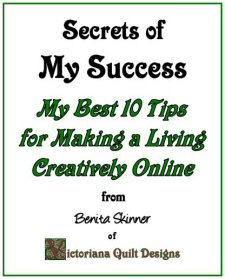 Learn How here!