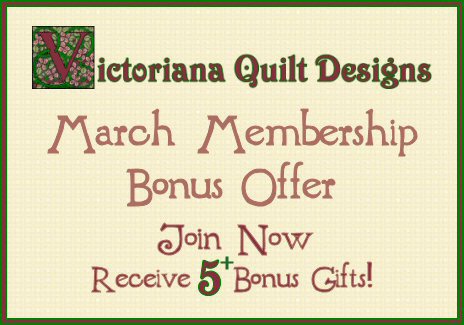 New Membership Only*
*Not available with Trial Membership
Purchase a Victoriana Quilt Designs Quilt Pattern Membership from now until March 31st, 2019 and receive 5+ Bonus Gifts!
And then ...You can receive all the new quilt patterns, plus have access to the members only pages and privileges!
Discover the full value of a membership here.
This is a one-time fee ~> No Renewing Ever!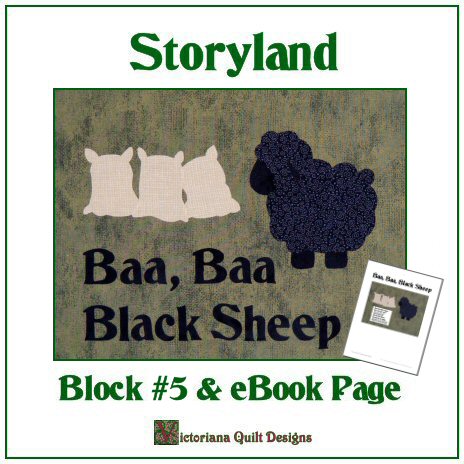 Storyland Children's Quilt Pattern Series & Companion Book
Each block is free to Members for one month.
~~~~~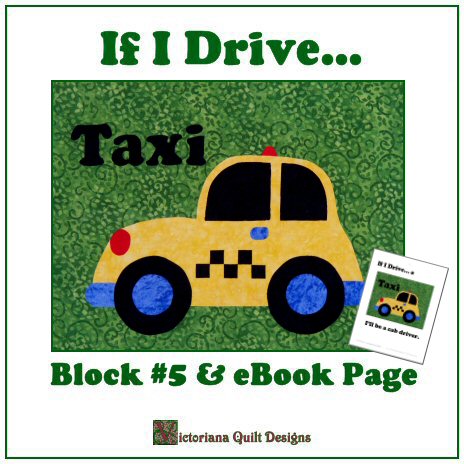 If I Drive... Children's Quilt Pattern Series & Companion Book
Each block is free to Members for one month.

Blue & White Tiles: Block #2
The second block of this new series is here.
Gather your blue & white fabrics and come stitch along!

A Member Quilt Pattern Series

Thank You Mini Quilt for a Medical Team or Nurse
The fourth design this series!

Another Free to Members Quilt Pattern

Free Block of the Month: A Novel Idea - Row #3 Book Blocks
Please Note: There is a delay in the next part of this quilt - but the remaining row is coming!
Receiving my newsletter is the best way to learn when they are available.

A Bookcase Quilt using Novelty Fabrics
- Quilt Making Fun!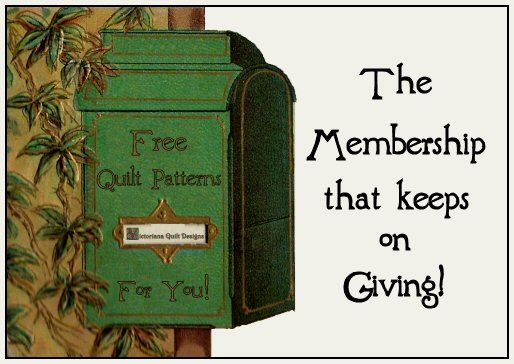 Continue to receive the new designs as part of your
Non-expiring Quilt Pattern Membership.
Details here.

7 Different Labels per Panel - Two Versions!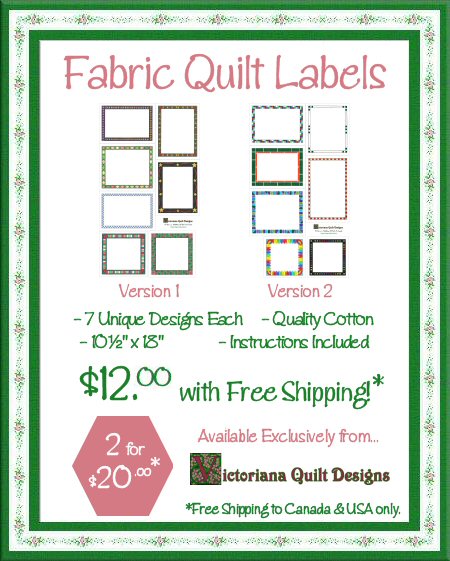 Adding a label to your finished quilts is an important way to share the details, for many years to come.
My Fabric Quilt Labels make that super easy to do!
Version 2 is now also available.
Close up pictures and more details here.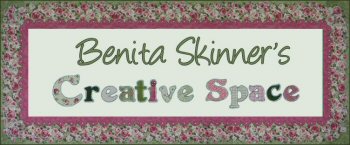 After 17 years online, I'm beginning to write about how Victoriana Quilt Designs come to life....
You can read posts from My Creative Space here.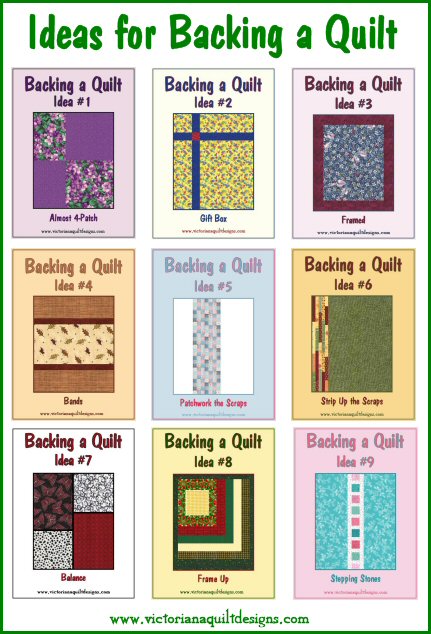 This collection of Ideas for Backing a Quilt is available in a .pdf file format.
Request it here.
Plus there are an additional 3 Ideas!
**SPECIAL NOTE: I've been sharing the calculations & instructions for these 12 ideas with Victoriana Quilters Members (free with membership).
The Calculations & Instructions for the
Idea #1 - Almost 4-Patch
Idea #2 - Gift Box
Idea #3 - Framed
Idea #4 - Bands
Idea #5 - Patchwork the Scraps
Idea #6 - Strip Up the Scraps
Idea #7 - Balance
Idea #8 - Frame Up
are all available here.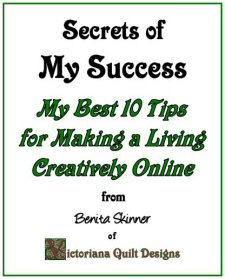 Learn How here!